March 24, 2012
A few years ago Melissa took Chris to a Michigan football game in the Big House. While we were at the game Chris noticed a couple of fans holding a giant D and a fence, like this: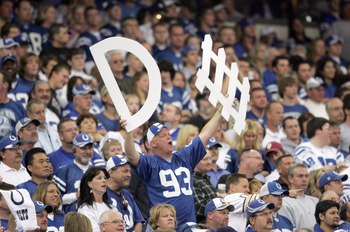 And he asked "Why are they holding a D and a fence?" Fast forward a few years and we are now tackling much more serious matters. Melissa's dissertation defense was on Tuesday, March 20 at 10am. She prepared very hard for this day and it showed – she was calm and in control throughout the whole presentation. Not surprisingly to those who know her well, she passed! Here are some before and after photos. Also included is a short video of Everett practicing The Force on Grandaddy's new car (also know as The Movie Car), which entails singing the Imperial March while making large arm gestures to get the door to open.
During the visit to Cleveland we stayed at the Alcazar, a.k.a. the Alcatraz, Al Jazeera, Al Jarreau, etc. The weather was freakishly warm for March, so much so that they had to put air conditioners in our rooms. After Melissa's defense we went to Yours Truly on Shaker Square for lunch, then relaxed in the afternoon, and finished the day with a dinner celebration at Patty's house.
Congratulations Dr. Butson!!!