August 15, 2009

Today we returned to the Wisconsin State Fair for another slice of midwestern Americana.  The fair park is a mile or two from our house and thanks to Wheel and Sprocket it now has bike parking, so we put the family on six wheels (two bikes and the Burley) and pedaled over.  I don't like using the Burley as a stroller so during our last trip we towed the Bob stroller behind the Burley (not a good idea).  Today we put the Uppababy on top of the Burley.  It's certainly not in the owner's manual but it worked well.  Highlights from the trip follow.
We visited the fair with Russ, Lauren and Nora.


In this photo Everett doesn't seem terribly interested in Nora, but later that evening he grabbed her by the collar and kissed her.  I guess acting cool and distant wasn't working.


When Everett was born we had all kinds of high ideals about how only healthy, natural food would enter his body.  But over the past year we have relaxed a bit, perhaps even more than we anticipated because today E shared his first corn dog with Dad.  For those who may be unfamiliar, especially our friends in other countries, corn dogs are one of the true American contributions to the culinary world along with cotton candy and the turducken.  And in case you are wondering I do not normally eat them – I think I might have had one in the 1980s.  In any case he seemed to like it quite a bit.


Nora showed us the butterflies on her shirt:


She also went down the world famous Wisconsin giant slide:


And E wore shoes for the first time this summer without screaming: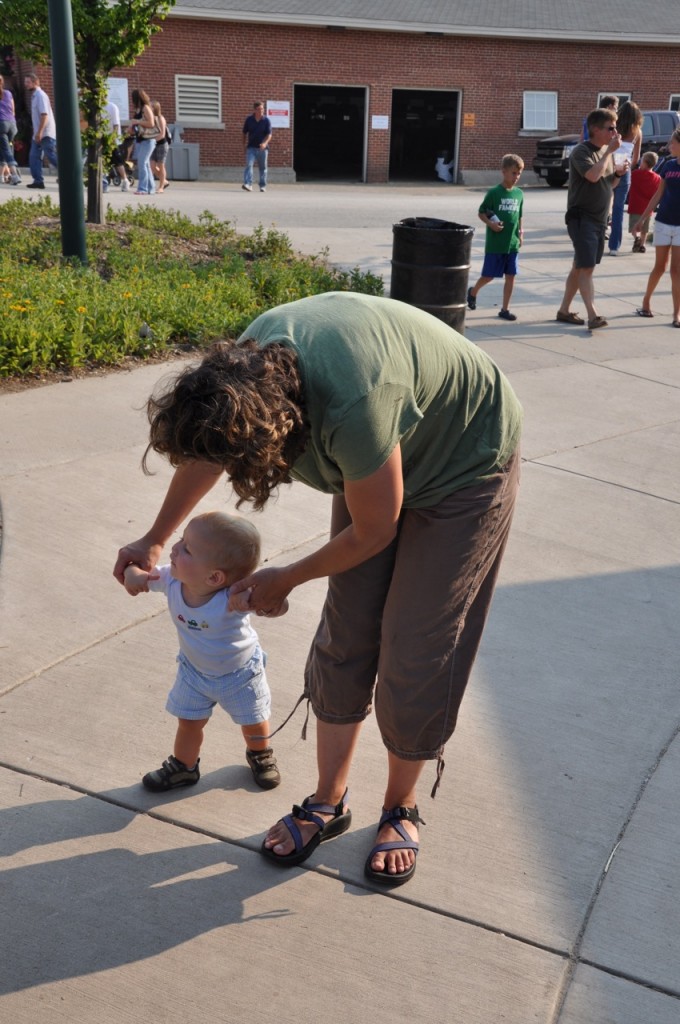 He also drove a tractor:


And we finished the day with a sunset ride home.