January 11, 2012
It appears that one part of Everett's identity is that he fixes things. He has been interested in tools for some time, mainly Dad's but sometimes he will use his own, and he is keenly interested when Dad is performing repairs. One day recently at preschool a girl's headband broke and he said "GIve it to me. I'll take it home, fix it and bring it back in the morning." His teacher seemed skeptical but this was something he took seriously. On the way home that night Everett told Dad not to tell Mom about the headband. And when we got home he didn't ask Dad's help to fix it. He sat down with Mom at his table, glued it back together and returned it the next morning. For this he received a Good Deed Alert at school: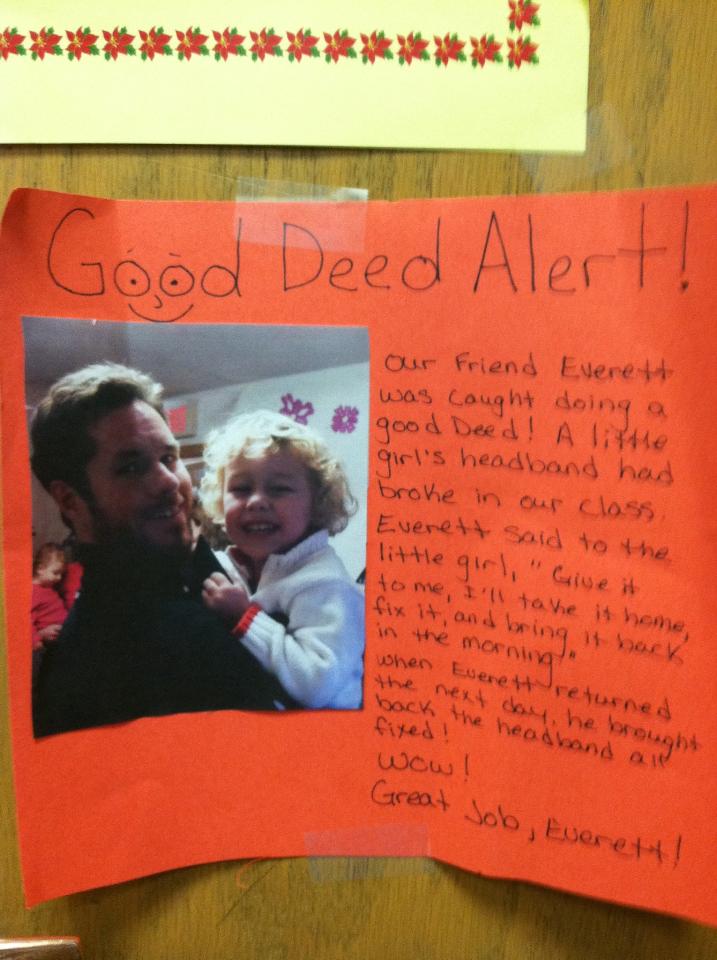 A couple days after this we found a dead squirrel in our yard. Based on the position we think it fell out of our neighbor's giant oak tree. When we showed the squirrel to Everett he immediately asked "Can we fix him?". After we explained no he asked "Can we see his insides?", a question that likely stems from his previous experience with a decomposed squirrel body. Again we said no but explained that we were going to bury him in the backyard. We dug a hole and then picked up the squirrel to move him, to which Everett commented "If I was a squirrel and I got dead I would want to take a ride on a shovel."
He hasn't performed any more repairs in the last couple days. However, there are many times where we can watch him and sense the gears turning in his head as he processes new experiences. We feel confident that questions about what can and cannot be fixed are going to come up again soon.