December 22, 2011
Last Friday night Chris was exhausted after a long week and really needed some rest so we decided to build a fire and have family movie night on the couch. That's when we discovered there was a live squirrel in our fireplace. We're not sure how long he had been there but the last time we opened the doors was a week earlier during the Kavanaugh Crawl. We contemplated many different strategies for getting him out and eventually remembered that our next door neighbor owns a small rodent trap. So we put together boxes to completely cover the hearth, put the trap inside the boxes with some cashews and peanut butter as bait, and then opened the door to the fireplace. No activity through the evening and at bedtime the trap was still set so we called it a night.
The next day was the Santa Rampage. Our loyal readers likely recall this even from previous years: hundreds of Santas gather by bicycle in downtown Milwaukee to spread holiday cheer in a convivial, bike-friendly atmosphere. The gathering is preceded by several smaller meetings around the city, one of which is in Tosa. So Chris and Everett got up around dawn to witness a Santa Rampage miracle: our first snow. We bundled up and took the Bakfiets for its first snow ride and it performed remarkably well.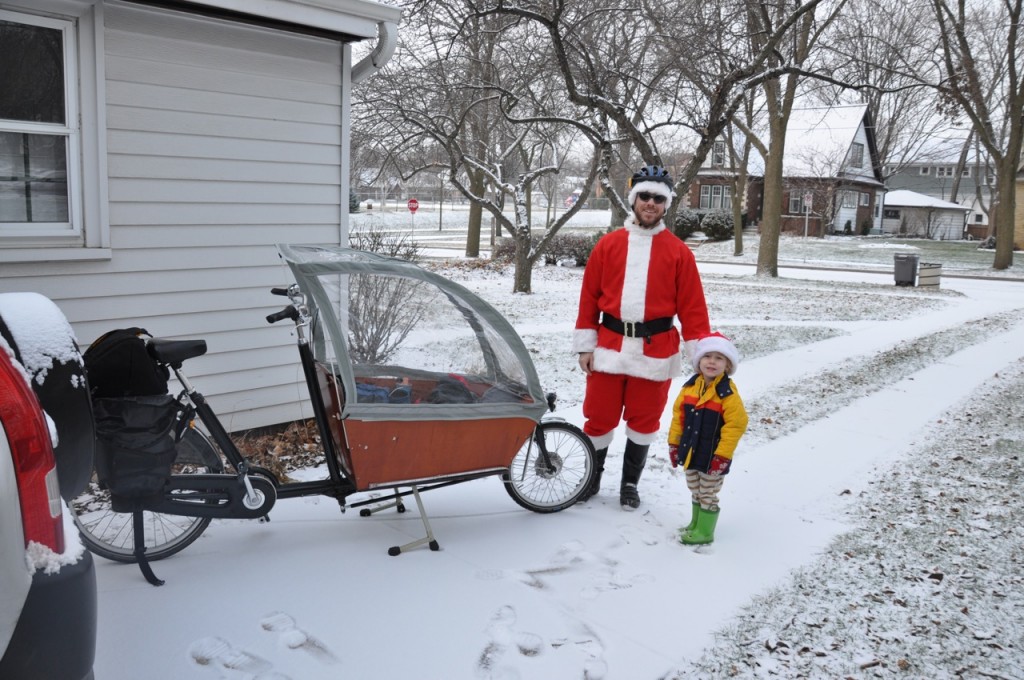 Good traction must be one of the few advantages of riding a 100lb bike. First stop: Cranky Al's for coffee and doughnuts. By luck we got to sit with the Carter family, which meant that Everett got to sit across the table from Sara, which meant that he was uncharacteristically quiet.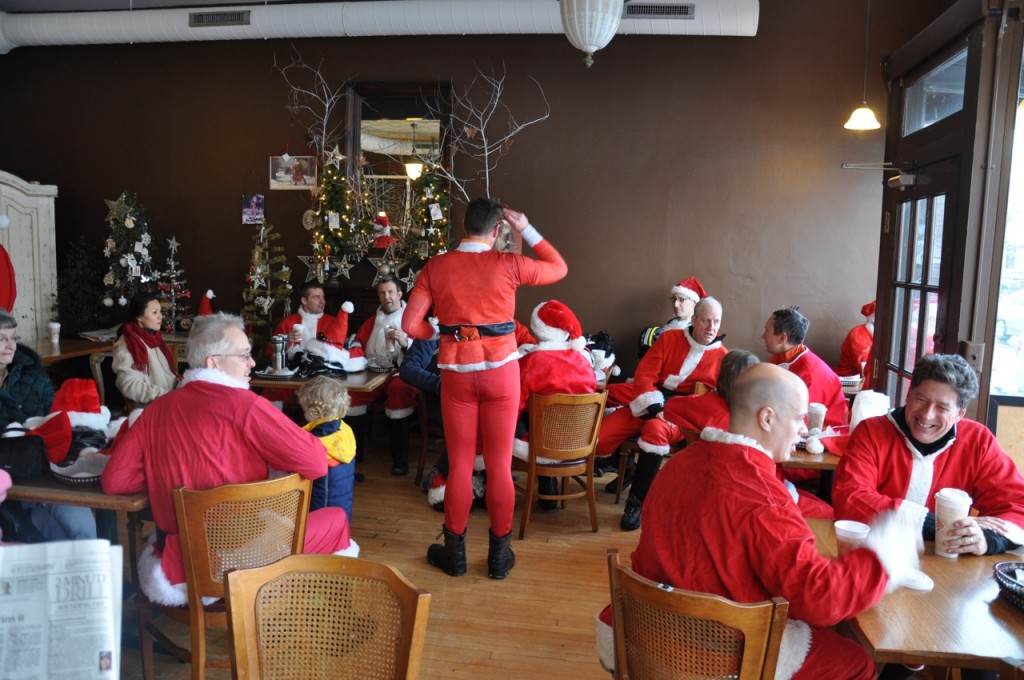 Next: the Spokesmen rode to Cafe Hollander in Tosa where we were joined by other west-side Santas. After a little while Everett got cold and discovered that Sara had gone home, so we did the same, but not before making the local news.
There was still no sign of the squirrel but Chris assured Melissa that she should call if she needed any help with the trap during the day, and Melissa assured Chris that if she did need help she would not be calling 300 inebriated Santas. Chris dropped off E and returned to Hollander for the ride downtown. As it turned out, three huge groups of Santas converged on Brady St at the same time, resulting in a sight that is indelibly etched in Chris' mind: hundreds of Santas on bike, filling the width of the road and stretching as far as we could see to the horizon. It was extraordinary. Another amazing event was that Conejitos in Milwaukee decided to open their banquet room to accommodate the Santas without any prior notice. They almost instantly seated 50 of them.

By the time Chris returned home at 5 there were reports of noises from the squirrel trap. We peeked in and saw that the trap had sprung so we pulled the box away from the hearth and found the squirrel loose in the box. Neighbors of ours have had squirrels running loose in their house and described the mayhem this caused. The presence of Kyra and Everett added to the potential chaos if he got loose in our house. So we shut the box as best we could, dragged it outside and performed a successful release into the wild. We built a fire that night and got up early again the next morning so that Chris could fly to Washington D.C. early the next morning for Sean's surprise birthday party. Friends and family gathered on Sunday evening in Bethesda to celebrate Sean turning 40. It was a fun gathering at Dave and Busters. Photos of the event will be posted soon but here is one to get started: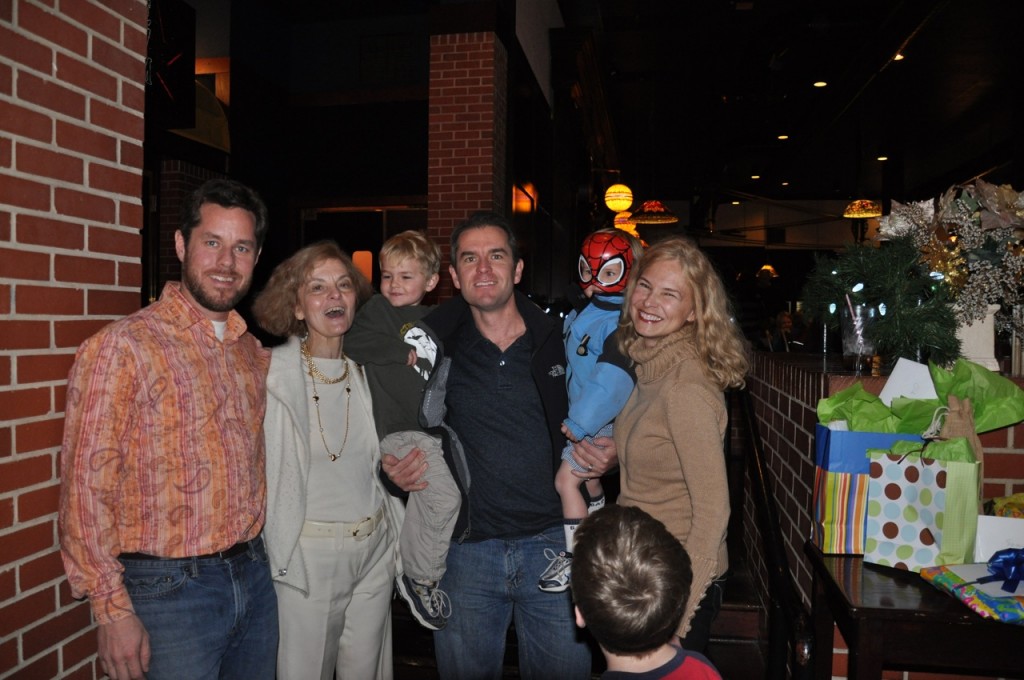 Happy 40th Birthday Sean!