November 30, 2011
We spent Thanksgiving in Cincinnati with Gabby and Granddaddy. Everett was with them for about a week before Chris and Melissa arrived, so everyone got a lot of quality time without parental supervision. Once everyone was together we engaged in a few annual family traditions. First was eating well on Thanksgiving, which meant turkey with fixings for lunch, dinner, bedtime snack and breakfast the next morning. Second was listening to Chris' favorite Arlo Guthrie song on Thanksgiving morning, complete with full orchestration and five part harmony. The song is called Alice's Restaurant, and it's about Alice, and the restaurant, but Alice's Restaurant is not the name of the restaurant, that's just the name of the song, and that's why he calls the song Alice's Restaurant. Third was gingerbread houses, a long tradition for Chris that the Barbers have really taken to. Everett has now reached the age where he can anticipate upcoming events, so he had been looking forward to this for some time. He helped Chris make the dough and bake the gingerbread.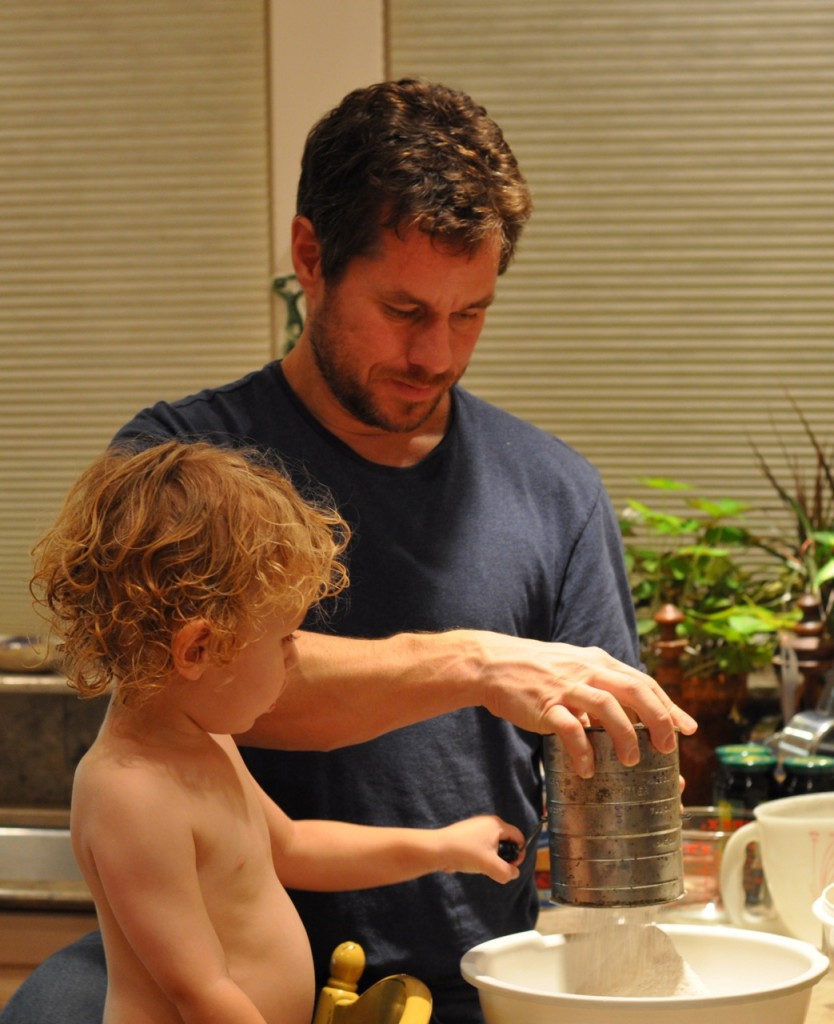 We made a house in the spirit of Friday Harbor: a gingerbread family at an oceanfront house, replete with lots of creatures we observed in and around the ocean.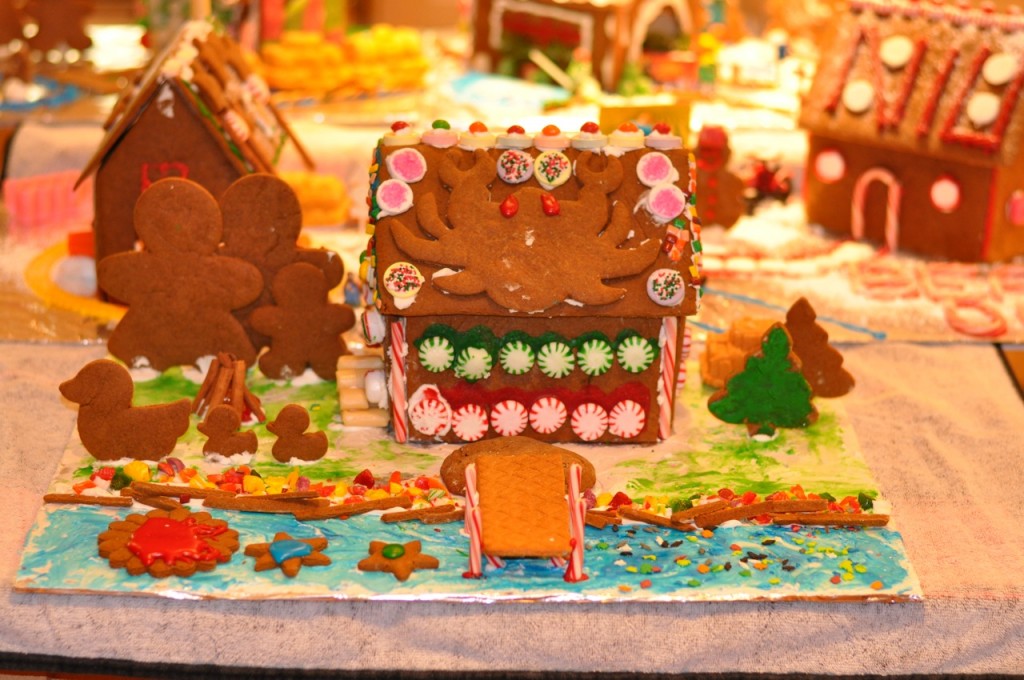 And it turns out that other friends and family members were similarly creative, which allowed us to display our house in a nice neighborhood.
Since then the gingerbread has stayed in our thoughts for a couple reasons. First, it is especially fragrant since we switched to using fresh spices from the Spice House in our neighborhood. Second, we have been listening repeatedly to Cookie Monster recently, especially in the car during the long drive back from Cincinnati, and he sings a song called Gingerbread Man which is now stuck in our heads. In fact I can hear it right now…
While we were in town Everett had his first big boy haircut in a man's barber shop. That's right – no frou-frou lotions or "product", no incense or new age music, no fruity drinks in champagne flutes and nothing made by Aveda. This is a place that still uses straight razors to shave your neck and after your haircut gives you a quick shoulder massage with a device that looks like a car buffer. Cress has gone there for some time, and now Chris goes there when he is in Cincinnati, so it was pretty neat to take Everett there as well. We weren't sure exactly how this was going to go, but as soon as we walked in Everett jumped in the chair and then sat still the entire time. It most certainly helped that Jack, the barber, has lots of experience cutting hair and is a great-grandfather himself.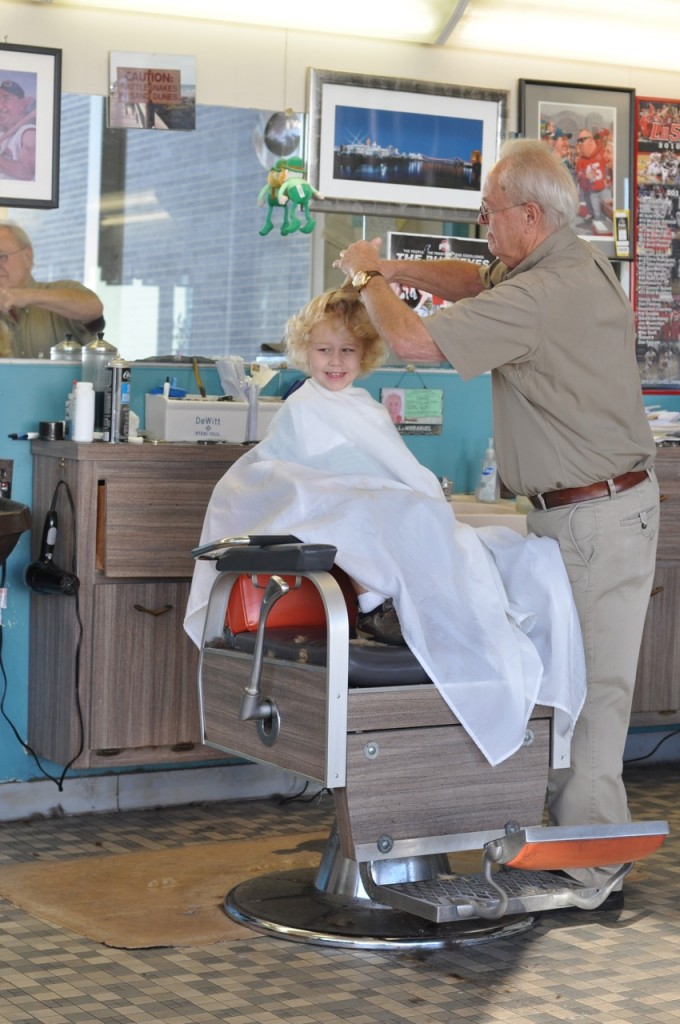 Once we returned home we experienced another family tradition: putting up the Christmas tree and decorating it. Everett really got into decorating this year, which resulted in a very high ornament density for the bottom three feet of the tree and virtually nothing above that.
Chris and Melissa later balanced things out and in the process really enjoyed going through our ornaments. One tradition we have while traveling is to buy a Christmas ornament when we go somewhere new. As a result, this time of year we get to relive lots of travel memories while decorating the tree. Here is how it turned out: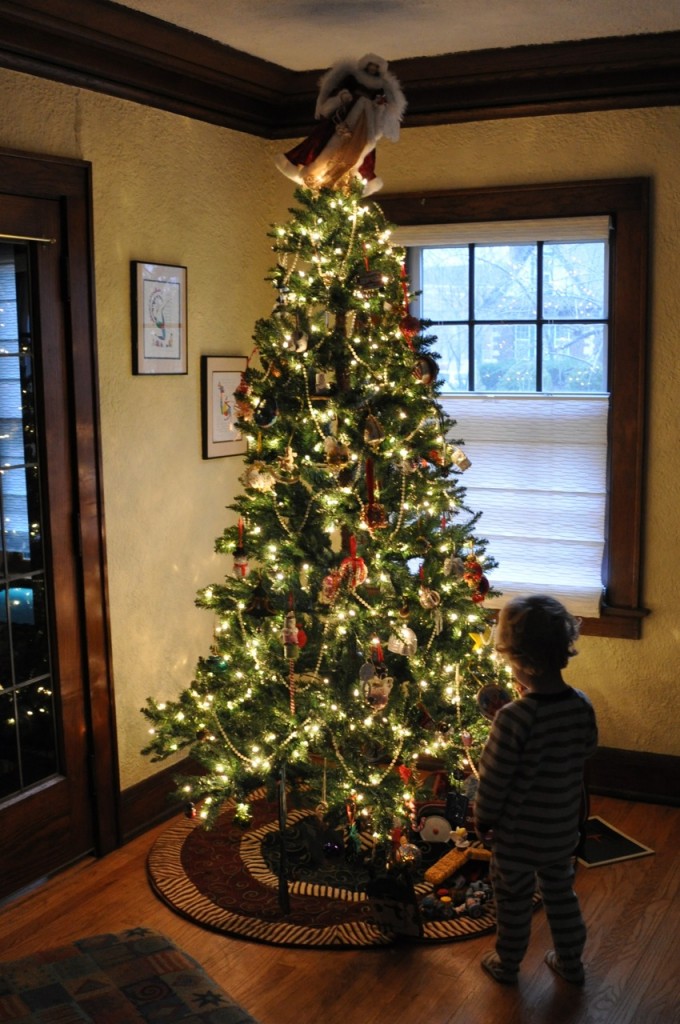 And here is a picture of how it looks while wearing my new Holiday Dreams glasses, which turns every light source into candy canes and Christmas stockings.