October 29, 2011
For a few days we have been talking to Everett about going trick or treating. Halloween this year is on a Monday, the City of Wauwatosa decided to have trick or treating on Sunday, and our neighborhood decided to have it on Saturday. If this makes sense to you then you might have a future in city government. Many of our readers remember that Everett was a duck for Halloween last year. Perhaps because of this, or his daily contact with ducks during bike rides to school, he wanted to be a duck this year as well. Melissa was able to find a Peeps costume for him to try on, and it was an immediate hit. In fact it was such a hit that he wore it the entire day, first to the dentist during his teeth cleaning and exam,
then the pancake house and then the pediatrician for his flu shot. Wearing it was accompanied by singing popular songs such as Twinkle Twinkle Little Star using only the word quack.
We returned from Friday Harbor last Sunday evening and by Wednesday one of us was traveling again: Melissa is attending the NSGC Conference over a long weekend. In the meantime, Chris is watching Everett. Tonight we went trick or treating on our neighborhood. Everett put on his duck costume followed by green claw slippers on his feet (they are Star Wars "Clone Wars" slippers – soon it might be time for Melissa to sit him down for The Talk) and duck slippers on his hands, and then announced that he was a duck monster. Apparently one characteristic of duck monsters is that they never stop moving. As a result of this and the fact that Chris was flying solo tonight it was quite difficult to get any good photographs of him. This is what Chris was able to pull off: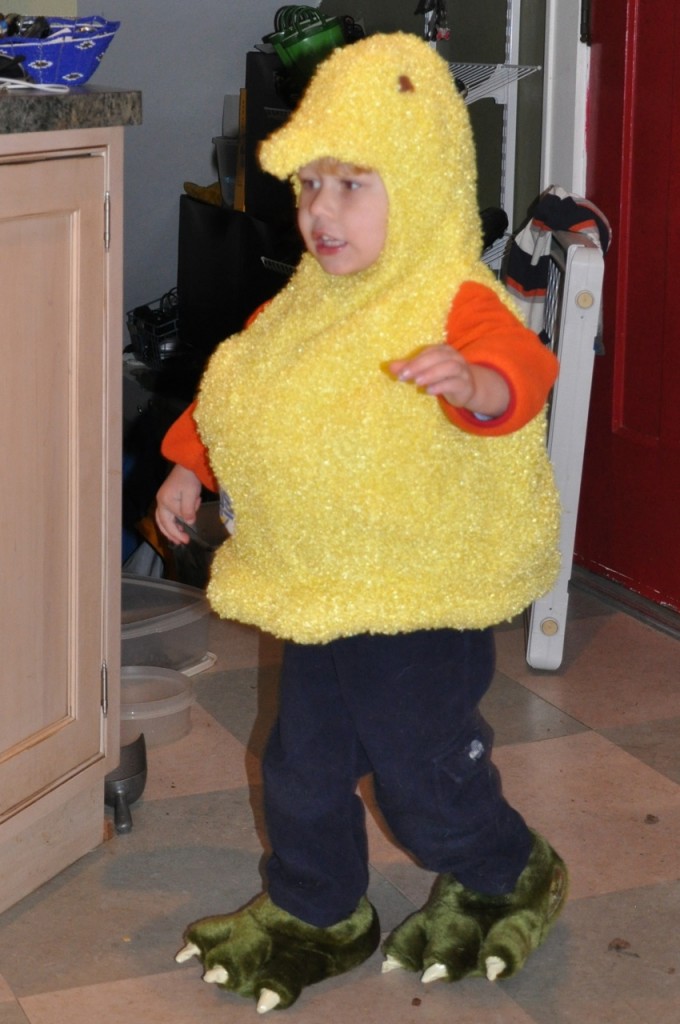 We went to most of the houses on Kavanaugh and for some reason Everett decided he was not going to speak to anyone tonight. As a result, a lot of people were cooing about how shy and quiet he must be. Seriously? The kid does not stop talking from the time he wakes up until well past his bedtime. After trick or treating we sat in the entryway and waited for trick or treaters to come by our house. Everett seemed to enjoy this quite a bit along with seeing his breath in the cold air (temperature tonight is in the 30s).
Two things are noteworthy since we returned from Friday Harbor. First, our readers may recall that picking up walnuts in the backyard was Everett's first chore. In the time we were gone this seems to have gotten away from us. The photo below shows significantly less than half the walnuts in our yard – the only way for him to catch up is probably to start using a snow shovel.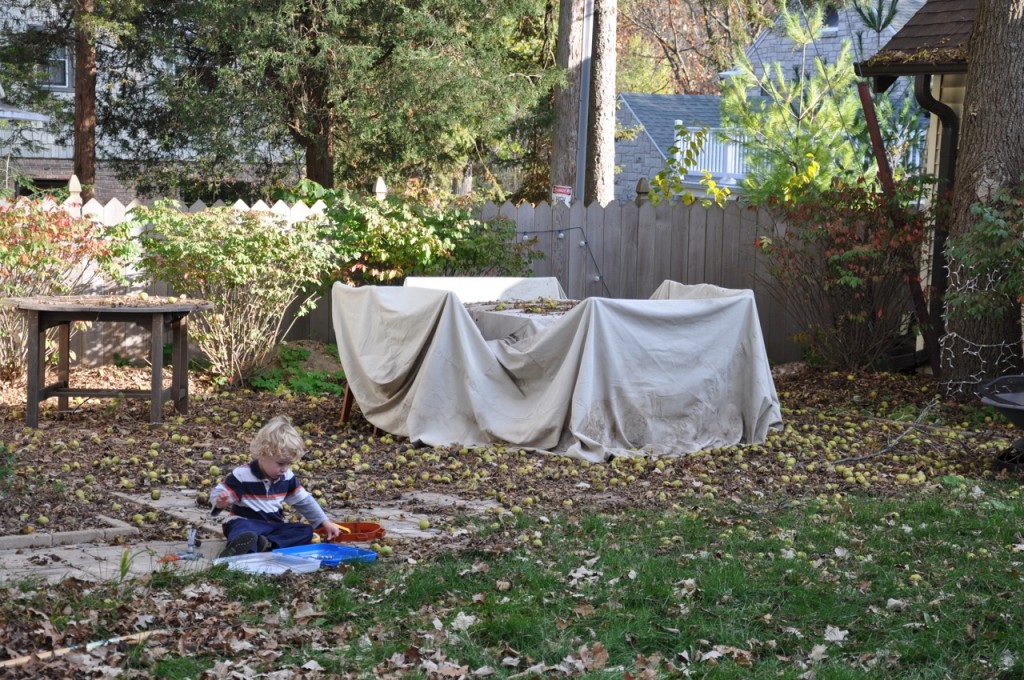 Second, for some time now Chris has been putting dangerous objects like knives on the kitchen counters to keep them away from Everett. Last night he was surprised to observe that Everett can stand on his toes and see over the kitchen counter. Even worse, things he can't reach from the floor can be acquired by finding something to stand on such as the US Mail crate that was used to deliver our held mail the day we returned. So Chris switched to the top of the refrigerator to keep things out of reach. Not sure what we will do once Everett starts reading this blog.