October 22, 2011
Saturday was our last day in Friday Harbor. We made one last visit to the beach and then went to the farmer's market to say goodbye to Kathy and to thank her for her help during the trip. Next we made a final attempt to see Popeye the seal. Note: there is a law that prohibits people from feeding marine mammals. If you are someone who enforces this law then please stop reading now. Melissa saw Popeye by chance during one of her visits to the Friday Harbor Seafood Market, and Chris had seen her (Popeye is a girl) when he went to pickup Cress, but Everett still had not met her despite several visits to the dock over the last week. We arrived at the Fish Market about 10:30 and didn't see her but walked around the dock for a while, looking at boats and anemones. We were walking back toward land and were about to leave when Popeye started swimming beside us. Then she swam under the dock to her appointed spot where she has been coming the last 15 years for snacks and socializing.
She doesn't vocalize (that we heard), but instead pops her head up and starts splashing water on the dock. Brenda at the Fish Market was kind enough to give Everett some pieces of fish to feed her.
Everett will not stop talking about it. "I fed a wild seal! She had whiskers and I blew her a kiss and she smiled at me!" It was fantastic. This experience may muddy the waters a little bit with regard to rules, much in the same way as picking blackberries. Everett is a gatherer, and for some time we have been telling him not to eat the berries he picks up off the ground. During this trip he learned that blackberries are an exception to this rule. He also learned that he may not feed wild animals, except Popeye. This will likely come back to bite us later because he is already coming up with carefully reasoned answers on why he doesn't have to obey us. "Let me tell you something…" has become a common phrase, followed by a long explanation that is impossible to overcome using parental logic.
After Popeye we went to the Whale Museum and then returned home for lunch. Saturday afternoon was spent napping (Everett), packing and cleaning (Mom and Dad). Finally we dropped off some treasures we had borrowed from the dining hall, said goodbye to the creatures on the dock and got on the 4:15 ferry to see our last island sunset.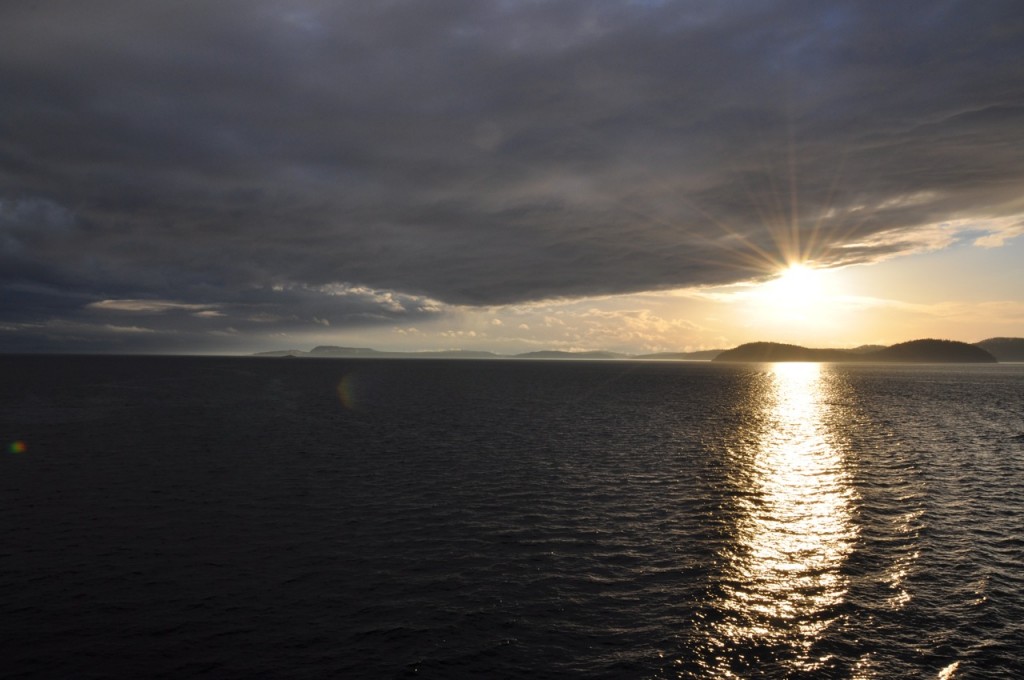 We had fish and crabs for dinner at the Rock Fish Grill in Anacortes and then drove to Seatac for our flight the next morning. That evening Everett said two remarkable things. First, he asked if we were going to the same hotel we stayed in during our trip to the island because he wanted to see if the paper was frozen (he was referring to the phone book he put in the freezer in our room). Then, as we drove through Seattle, he asked if the roads were closed for the president (during our trip north the interstate and all roads into Seattle were closed for President Obama's visit). It is remarkable to us that he remembers both of these things from four weeks ago. It is also gratifying that he has started conducting his own experiments ("does paper freeze?"). In fact, saying "I'm doing an experiment!" is one of the ways he admonishes us when we are trying to get him to do things on our schedule instead of his.