October 29, 2011
For a few days we have been talking to Everett about going trick or treating. Halloween this year is on a Monday, the City of Wauwatosa decided to have trick or treating on Sunday, and our neighborhood decided to have it on Saturday. If this makes sense to you then you might have a future in city government. Many of our readers remember that Everett was a duck for Halloween last year. Perhaps because of this, or his daily contact with ducks during bike rides to school, he wanted to be a duck this year as well. Melissa was able to find a Peeps costume for him to try on, and it was an immediate hit. In fact it was such a hit that he wore it the entire day, first to the dentist during his teeth cleaning and exam,
then the pancake house and then the pediatrician for his flu shot. Wearing it was accompanied by singing popular songs such as Twinkle Twinkle Little Star using only the word quack.
We returned from Friday Harbor last Sunday evening and by Wednesday one of us was traveling again: Melissa is attending the NSGC Conference over a long weekend. In the meantime, Chris is watching Everett. Tonight we went trick or treating on our neighborhood. Everett put on his duck costume followed by green claw slippers on his feet (they are Star Wars "Clone Wars" slippers – soon it might be time for Melissa to sit him down for The Talk) and duck slippers on his hands, and then announced that he was a duck monster. Apparently one characteristic of duck monsters is that they never stop moving. As a result of this and the fact that Chris was flying solo tonight it was quite difficult to get any good photographs of him. This is what Chris was able to pull off: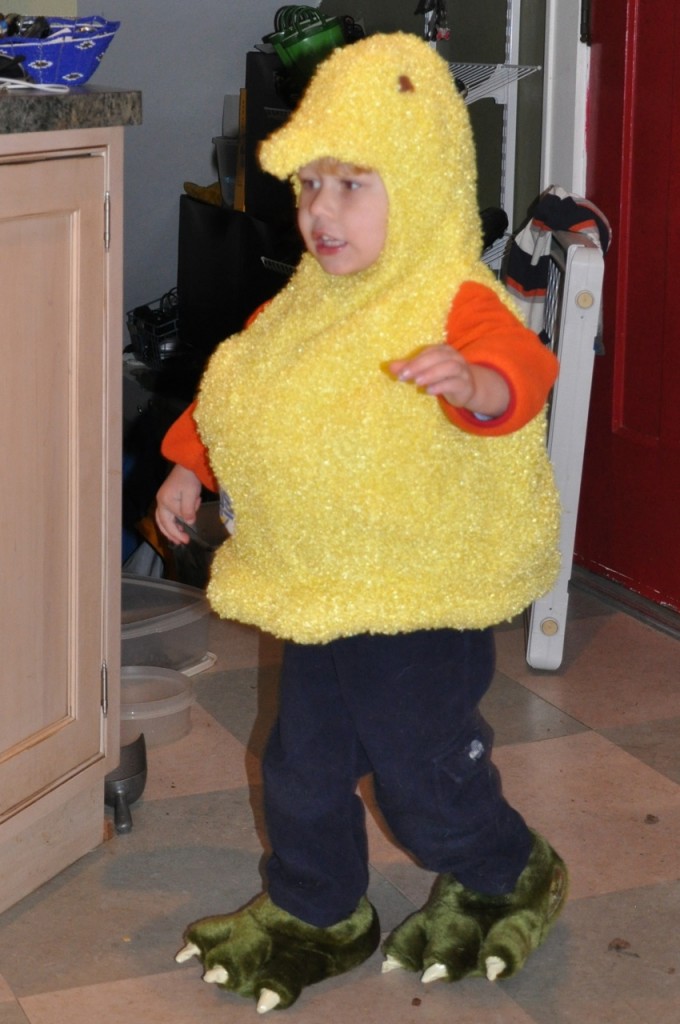 We went to most of the houses on Kavanaugh and for some reason Everett decided he was not going to speak to anyone tonight. As a result, a lot of people were cooing about how shy and quiet he must be. Seriously? The kid does not stop talking from the time he wakes up until well past his bedtime. After trick or treating we sat in the entryway and waited for trick or treaters to come by our house. Everett seemed to enjoy this quite a bit along with seeing his breath in the cold air (temperature tonight is in the 30s).
Two things are noteworthy since we returned from Friday Harbor. First, our readers may recall that picking up walnuts in the backyard was Everett's first chore. In the time we were gone this seems to have gotten away from us. The photo below shows significantly less than half the walnuts in our yard – the only way for him to catch up is probably to start using a snow shovel.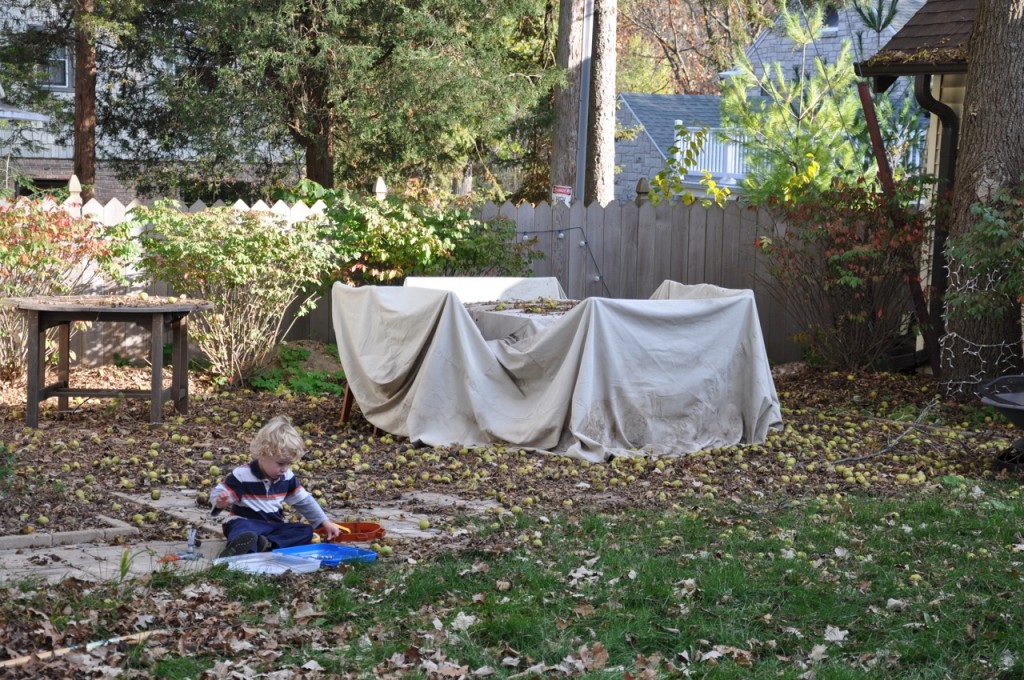 Second, for some time now Chris has been putting dangerous objects like knives on the kitchen counters to keep them away from Everett. Last night he was surprised to observe that Everett can stand on his toes and see over the kitchen counter. Even worse, things he can't reach from the floor can be acquired by finding something to stand on such as the US Mail crate that was used to deliver our held mail the day we returned. So Chris switched to the top of the refrigerator to keep things out of reach. Not sure what we will do once Everett starts reading this blog.
October 25, 2011
Treasures
To Everett a significant portion of the world is made up of treasures or containers to hold them. During our four weeks in Friday Harbor he assembled quite a collection.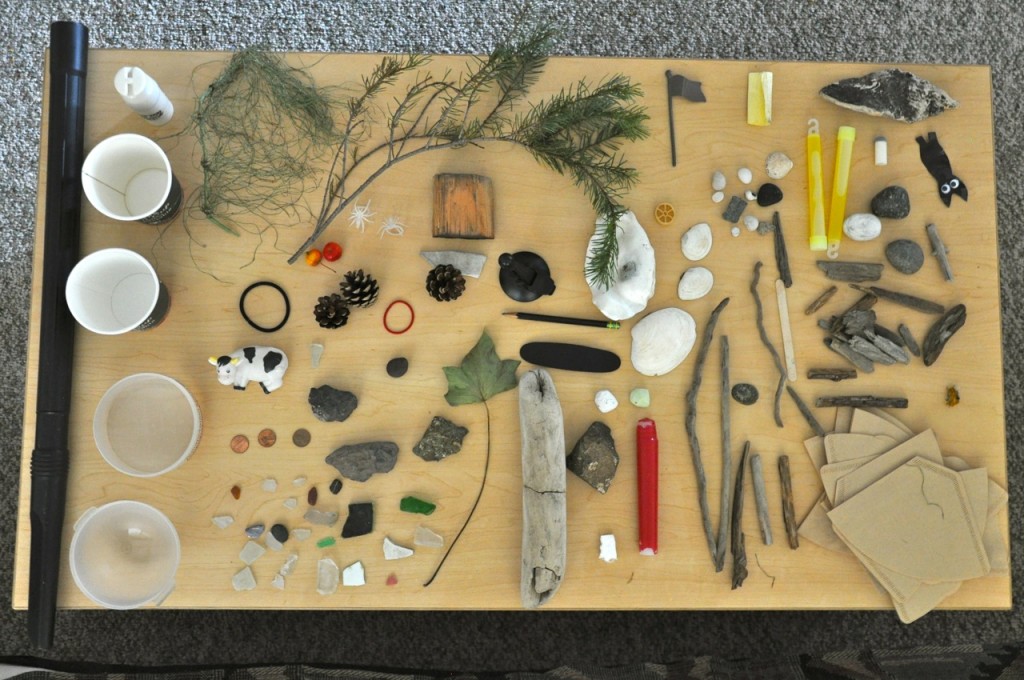 And by the time we finished cleaning the apartment we found many more treasures that didn't make it into the picture. One thing in particular was a rubber spatula that Everett calls "my chewy". A few weeks ago he has started chewing on his shirts. When we discouraged this behavior he was honest with us ("Ok, I will try not to, but I'm not sure if I can.") and reflective ("I don't know why I am always chewing on my shirt."). We gave him the spatula as an alternative, which he kept it in the fort that Chris built next to his bed so he could chew on it during the night instead of his pajamas.
Stroller
This is the first trip where we didn't bring the stroller. Everett has reached the age where it is helpful but not required, so we decided to try without it. For the most part it went really well – he only asked for it once in four weeks. Could we have done more with the stroller? Maybe, but still not as much as we wanted to do. We never did go kayaking or even venture very far on the rowboat. We didn't see any orcas on this trip. One adjustment Chris has yet to make is to realize he needs to scale back his expectations of the length and frequency of adventures with a three year old, even one who is a great traveler. And one adjustment Chris and Melissa both need to make is to pack less stuff on trips. In fact, for our next trip we agreed on the following exercise: each of us gets one small bag that must hold everything we need.
Fears
One thing Everett is fearful of is toilets that flush automatically. We think the major issues are the noise and the unpredictable timing of the flushes. As a result, his first choice is the bathroom at home, second choice is to go outside and last choice is bathrooms away from home. For the last month we have been doing the second option a lot, but while traveling the third option is inevitable, and at these times he asks "Is this safe?", meaning is it a manual flushing toilet? If it's automatic then he wants us to hold a hand over the sensor. This is quite a challenge while simultaneously wrangling a three year old in a space made for one person, and trying to touch as few surfaces as possible. Often in this situation he will look us in the eyes and say "I love you." It's touching, but also hard not to laugh given the circumstances.
Discipline
Our primary discipline method with Everett has been timeouts, which are usually preceded by Mom or Dad counting to three. As he has grown older these have become more symbolic than anything because we can't force him to stay in one spot, so at this point we will just sit him down wherever we are and tell him he is in timeout, which he intensely dislikes. He has tried an evolving set of methods to avoid them. He started by saying "Stop counting!" or "No, stop talking" when we were counting to three. When Gabby tried counting during a recent trip to her and Grandaddy's house Everett said "Mommy doesn't count," which obviously isn't true. Now he interrupts us with "Let me tell you something…". In this regard it is interesting to observe how children find innovative solutions to problems. Another example is that we recently put a digital clock in his room, and in an effort to increase parental sleep we taught him to read it and told him he couldn't call us or get up until it said 7:00. His solution is to wake up when he feels ready and change the time to 7:00, which is technically what we asked for.
Art
The night after we returned from Friday Harbor Everett made the following painting which he entitled High Tide. Perhaps this trip will have lasting memories for him?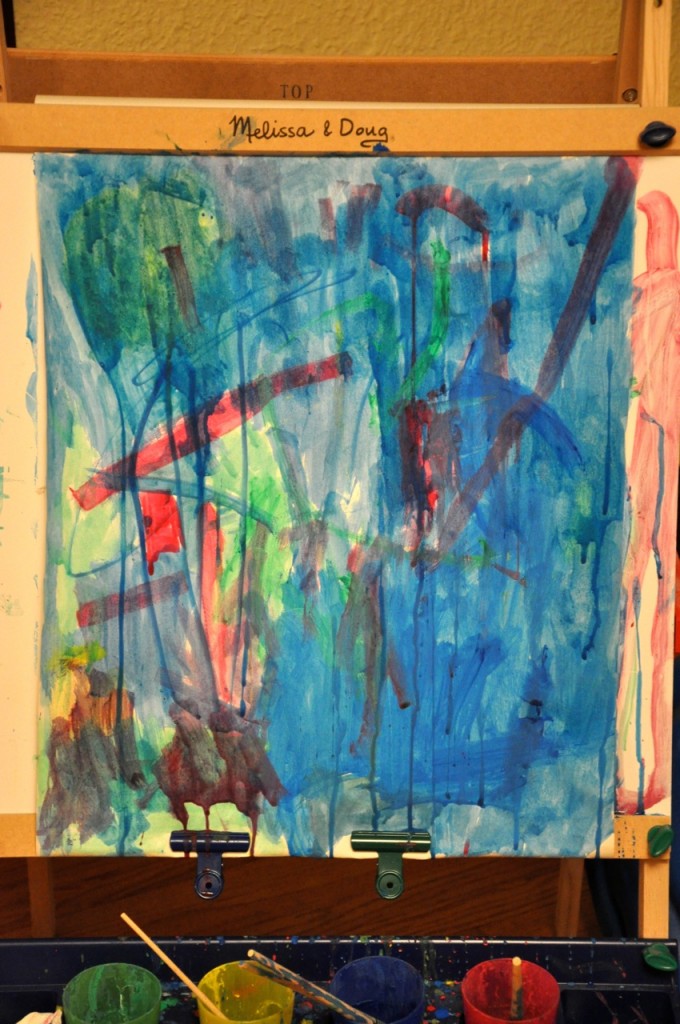 To close this blog entry, here's a video of a sea urchin waving goodbye with all 500 arms.
October 22, 2011
Saturday was our last day in Friday Harbor. We made one last visit to the beach and then went to the farmer's market to say goodbye to Kathy and to thank her for her help during the trip. Next we made a final attempt to see Popeye the seal. Note: there is a law that prohibits people from feeding marine mammals. If you are someone who enforces this law then please stop reading now. Melissa saw Popeye by chance during one of her visits to the Friday Harbor Seafood Market, and Chris had seen her (Popeye is a girl) when he went to pickup Cress, but Everett still had not met her despite several visits to the dock over the last week. We arrived at the Fish Market about 10:30 and didn't see her but walked around the dock for a while, looking at boats and anemones. We were walking back toward land and were about to leave when Popeye started swimming beside us. Then she swam under the dock to her appointed spot where she has been coming the last 15 years for snacks and socializing.
She doesn't vocalize (that we heard), but instead pops her head up and starts splashing water on the dock. Brenda at the Fish Market was kind enough to give Everett some pieces of fish to feed her.
Everett will not stop talking about it. "I fed a wild seal! She had whiskers and I blew her a kiss and she smiled at me!" It was fantastic. This experience may muddy the waters a little bit with regard to rules, much in the same way as picking blackberries. Everett is a gatherer, and for some time we have been telling him not to eat the berries he picks up off the ground. During this trip he learned that blackberries are an exception to this rule. He also learned that he may not feed wild animals, except Popeye. This will likely come back to bite us later because he is already coming up with carefully reasoned answers on why he doesn't have to obey us. "Let me tell you something…" has become a common phrase, followed by a long explanation that is impossible to overcome using parental logic.
After Popeye we went to the Whale Museum and then returned home for lunch. Saturday afternoon was spent napping (Everett), packing and cleaning (Mom and Dad). Finally we dropped off some treasures we had borrowed from the dining hall, said goodbye to the creatures on the dock and got on the 4:15 ferry to see our last island sunset.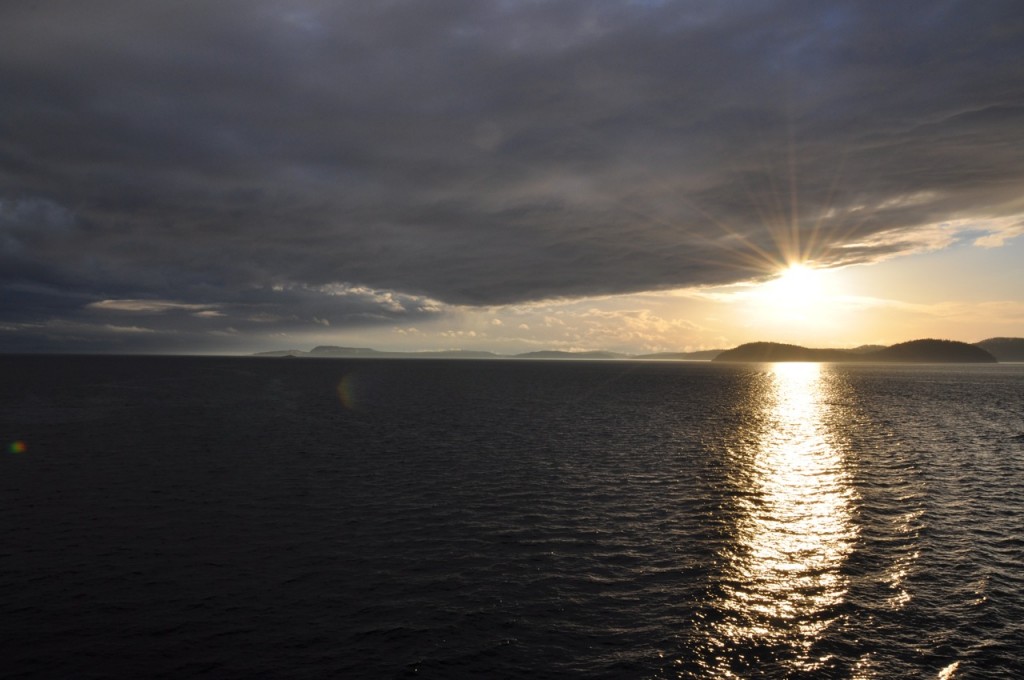 We had fish and crabs for dinner at the Rock Fish Grill in Anacortes and then drove to Seatac for our flight the next morning. That evening Everett said two remarkable things. First, he asked if we were going to the same hotel we stayed in during our trip to the island because he wanted to see if the paper was frozen (he was referring to the phone book he put in the freezer in our room). Then, as we drove through Seattle, he asked if the roads were closed for the president (during our trip north the interstate and all roads into Seattle were closed for President Obama's visit). It is remarkable to us that he remembers both of these things from four weeks ago. It is also gratifying that he has started conducting his own experiments ("does paper freeze?"). In fact, saying "I'm doing an experiment!" is one of the ways he admonishes us when we are trying to get him to do things on our schedule instead of his.
October 20, 2011
The trip is starting to wind down. Melissa and Chris have both had thoughts that despite how beautiful it is here, it will be nice to be home again as well. Chris has a couple of grant applications due and working on them has been are reminder of some of the urgent things that are awaiting us when we return. Yesterday there was a going away party for Everett at Alphabet Soup, which was done a little early so that his teacher Jamie could attend (she will be gone Thursday and Friday).
We are starting to plan the final activities we want to do before leaving including the Whale Museum and seeing if we can meet Popeye the seal at the marina. We haven't yet seen an orca but are still hopeful.
Here are a few final creatures from the dock, including some neat nighttime footage of a crab eating, a pair of nudibranchs side by side (Dirona pellucida and Hermissenda crassicornis) and our first sighting of a Diaulula sandiegensis.
October 17, 2011
On Sunday we slept until around 8 and had breakfast while Everett told us a story about Ellie the shrimp. Soon afterward we headed to the beach to look for creatures. Later we tried to go for a hike north along the shore, but Everett wasn't feeling up to it so Cress and Melissa went while Chris and Everett had some playtime in the dining hall. Lunch, nap and then off to False Bay so that Everett could show Granddaddy the muck at low tide!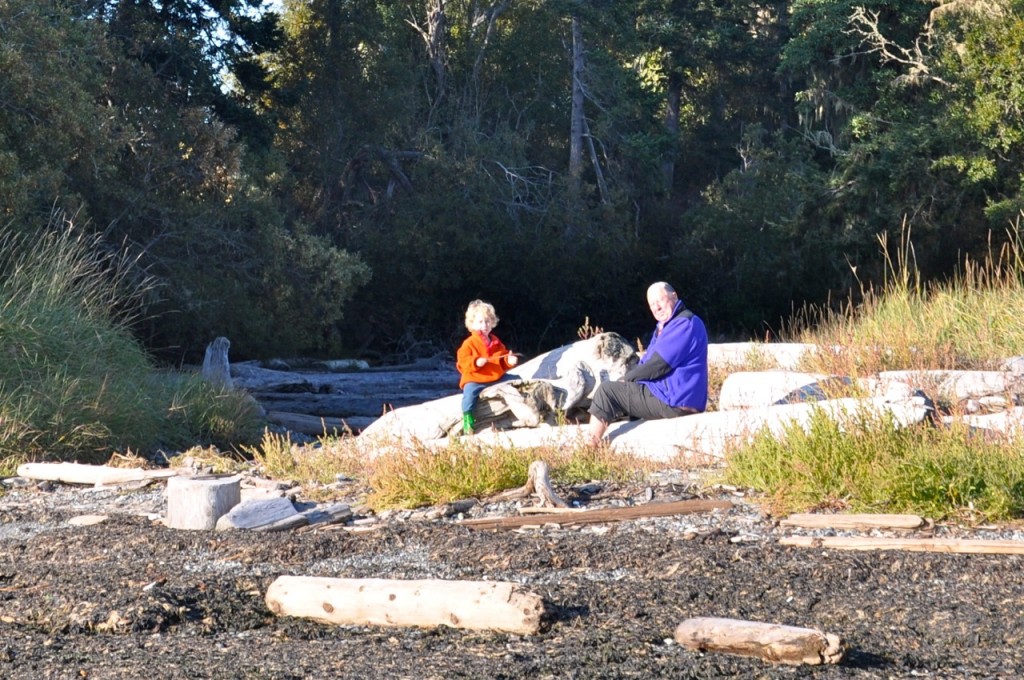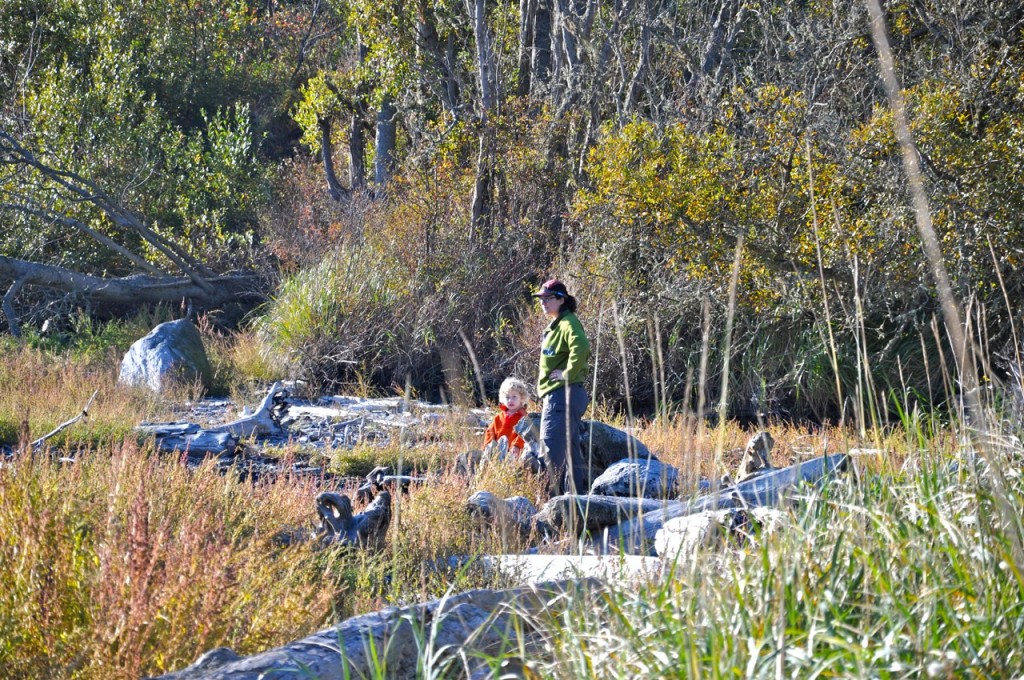 Everett has been looking forward to this for days, and thanks to the new boots that Cress bought he didn't even have to get his feet wet. That evening we returned to Downriggers for dinner and then called it an early night. Monday morning we were at the dock by 8:30am for Cress' flight to Seatac to return home. It was a very full visit! Note to our fan base: here is the much awaited video blog entry from Everett.
October 15, 2011
On Friday morning we got up late (our Everett alarm is not as dependable lately) and went into town. Everett went to school while Cress wandered around town for the first half of the day. The three adults met for lunch at the house, then worked a bit more, and finally picked up Everett early from school for an afternoon outing. First stop: Westcott Bay Sea Farm. This is one of the places where Chris used to hunt for nudibranchs back in the day. At that time there was quite a congenial relationship between the farm and FHL – they allowed researchers unfettered access to the docks. More recently it sounds like they have scaled back operations and are not operating at the same capacity. We weren't able to get any more details, but when we arrived there on Friday afternoon the tanks were empty and the whole place looked deserted. We were able to observe some cormorants drying their wings on the buoys.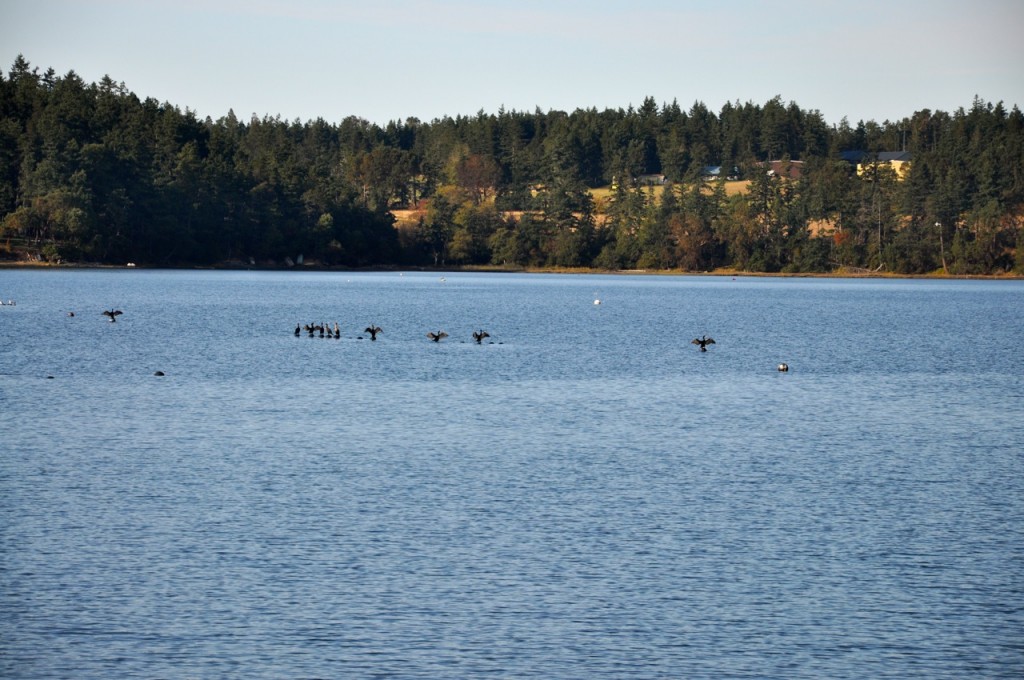 Next stop: Roche Harbor. This place has been here for some time in different forms. There are still remnants of the lime kilns that once operated and the nearby quarries where it was mined. The Hotel de Haro has been here for well over 100 years and has been restored, along with the garden in front.
Returned to FH and got a view of our destination for the next morning: Mt. Constitution on Orcas Island.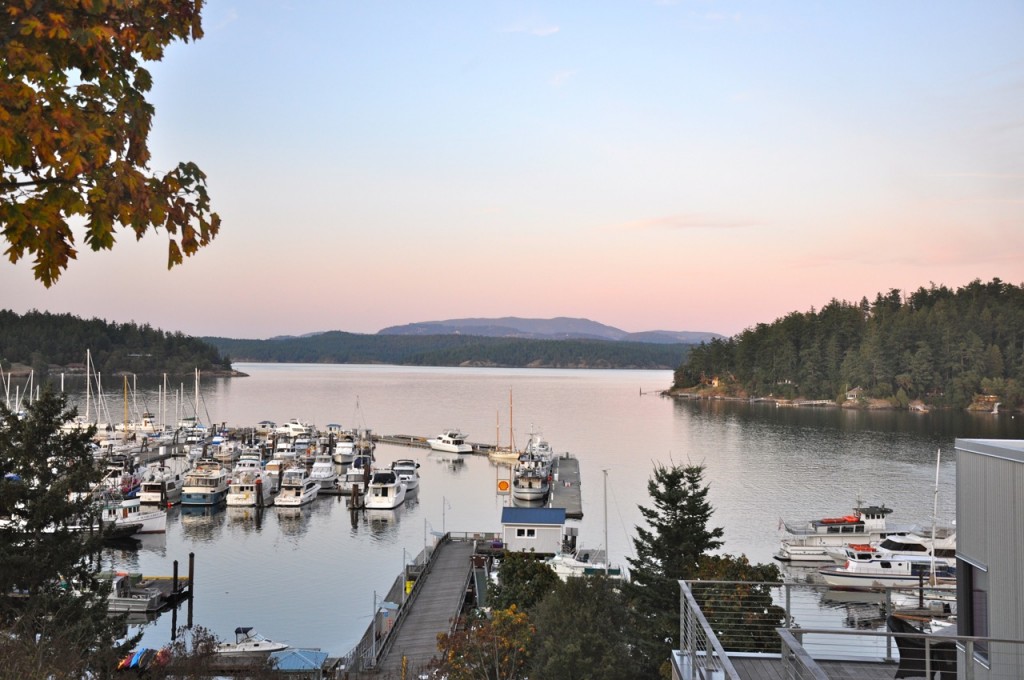 Went to Downriggers for a delicious dinner…apparently it takes three iphones to entertain a three year old.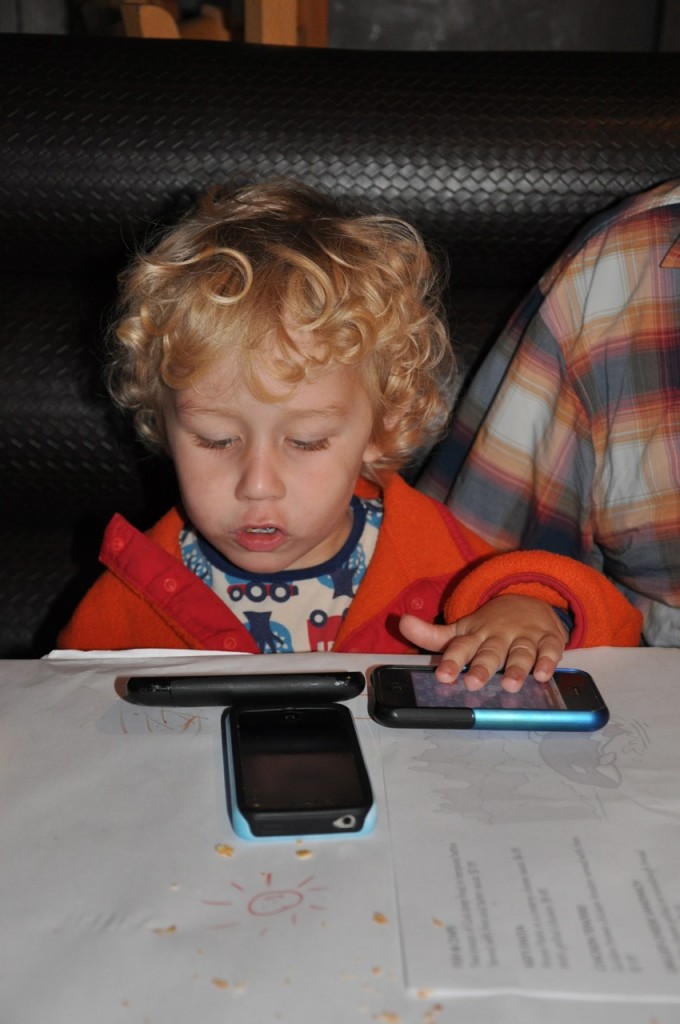 The next morning we got up a bit early to get on the 8:30 ferry to Orcas Island. We knew that the return trips were at 12:25 followed by 4:30 and no one wanted to spend the entire day there (and risk Everett missing a nap) so we decided to make it a three hour trip. Got off the Chetzemoka and drove straight to Mt. Constitution. It was a beautiful day for it and we had a great view of Mt. Baker from the top.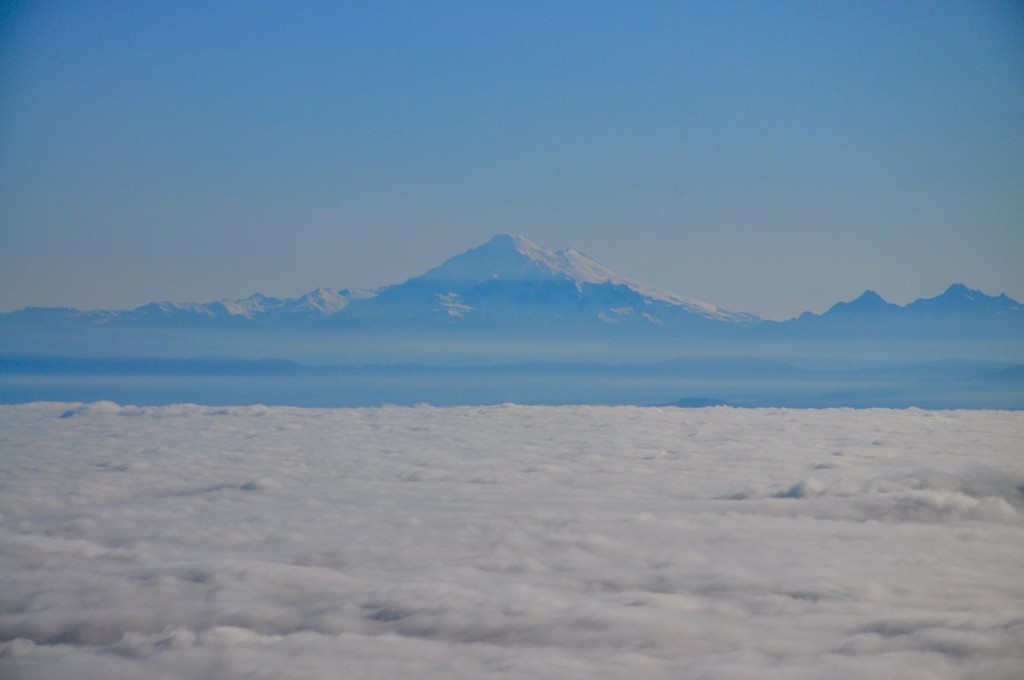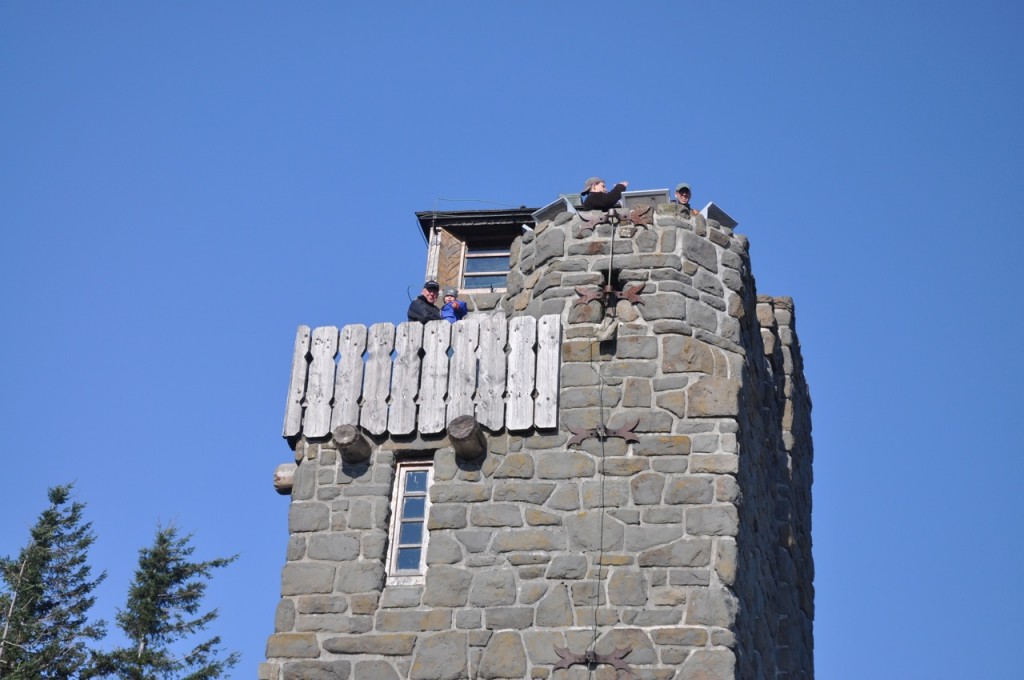 Everett fell asleep in the car on the way back to the ferry, yet (thankfully) still took another nap when we got home. During the trips to and from Orcas Island the family behind us in line for the ferry was one of the girls that Everett goes to preschool with. During the ferry ride home Melissa spotted an eagle at Shaw Island: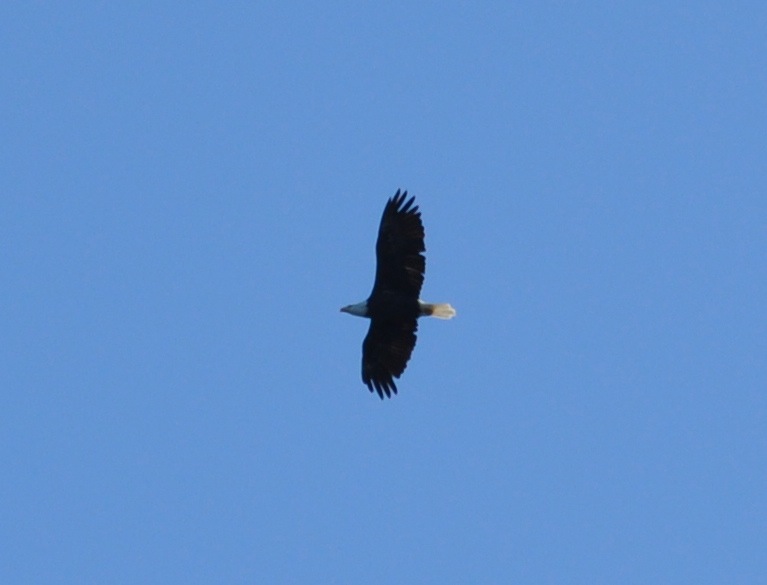 That evening we had a meat and cheese plate for dinner, then went to the dock for Friday Harbor Television. We found one Pycnopodia attached to a chain right partially above the surface, and another on the bottom in about 15 feet of water. Pycnopodia are soft and need to stay submerged for support, so it seemed unusual to see one slightly above the water.
October 13, 2011
The days have now become even more full, so much so that it's difficult to find time to keep up the blog. This has been for two primary reasons. First, the weather has improved a lot so we have been spending a lot more time on outside adventures (Chris got up at dawn today to photograph the sunrise):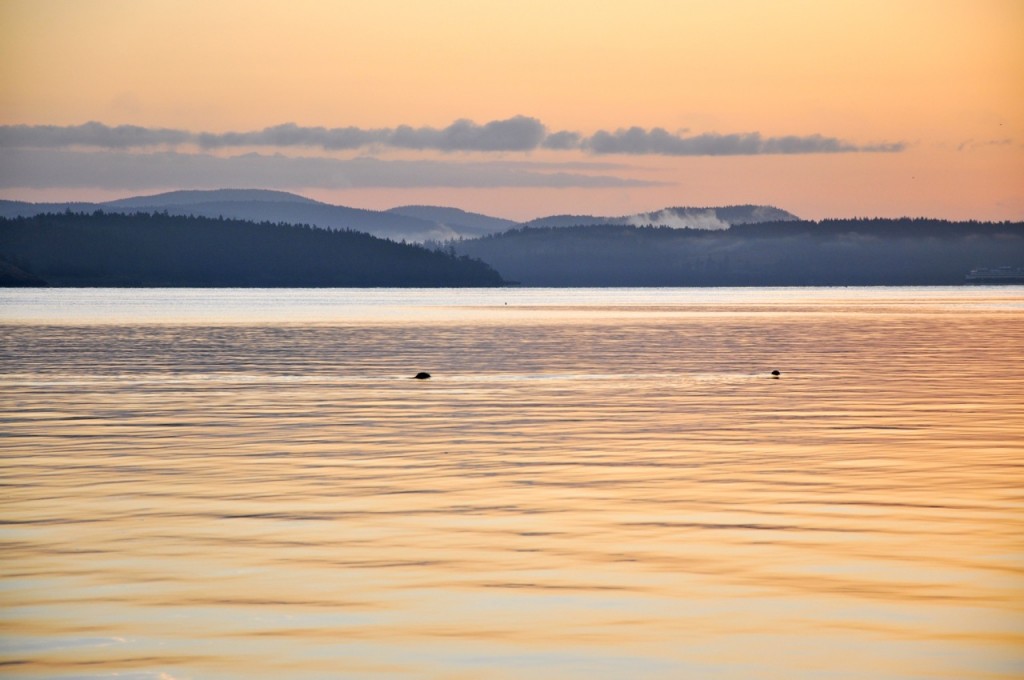 The second reason is that Cress arrived this afternoon!
Other recent events: Everett and his class went to a pumpkin patch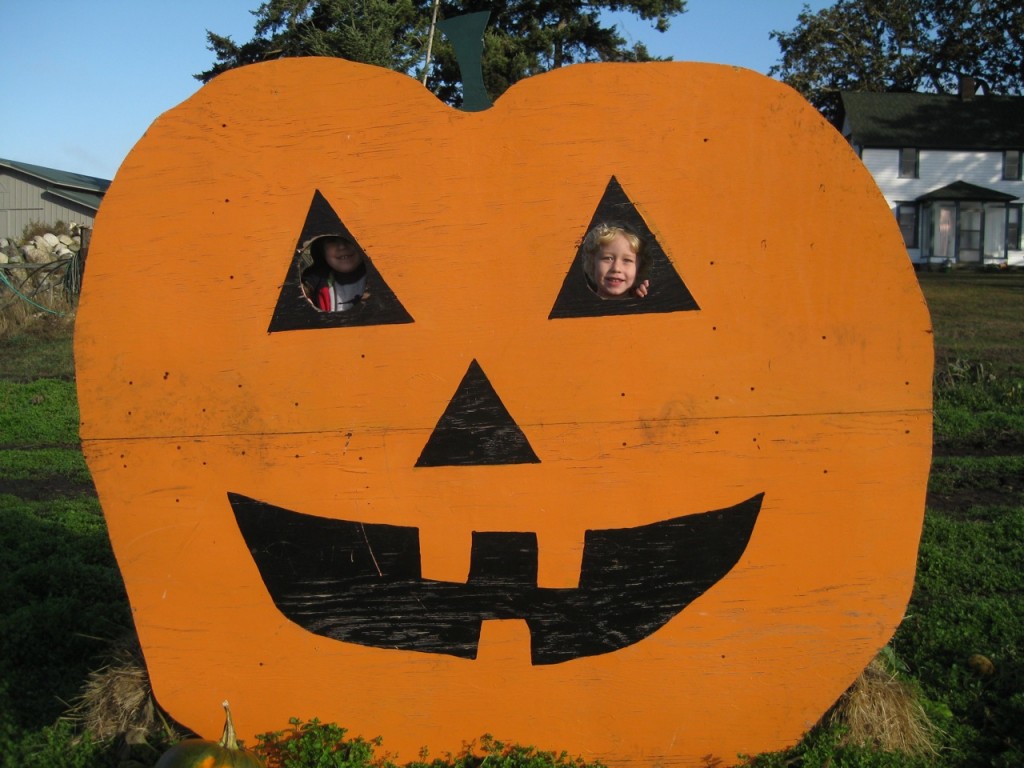 After Grandaddy arrived we went to Lime Kiln State Park to watch for orcas. We didn't see any, but Everett put Grandaddy in timeout at one point (we aren't exactly sure why).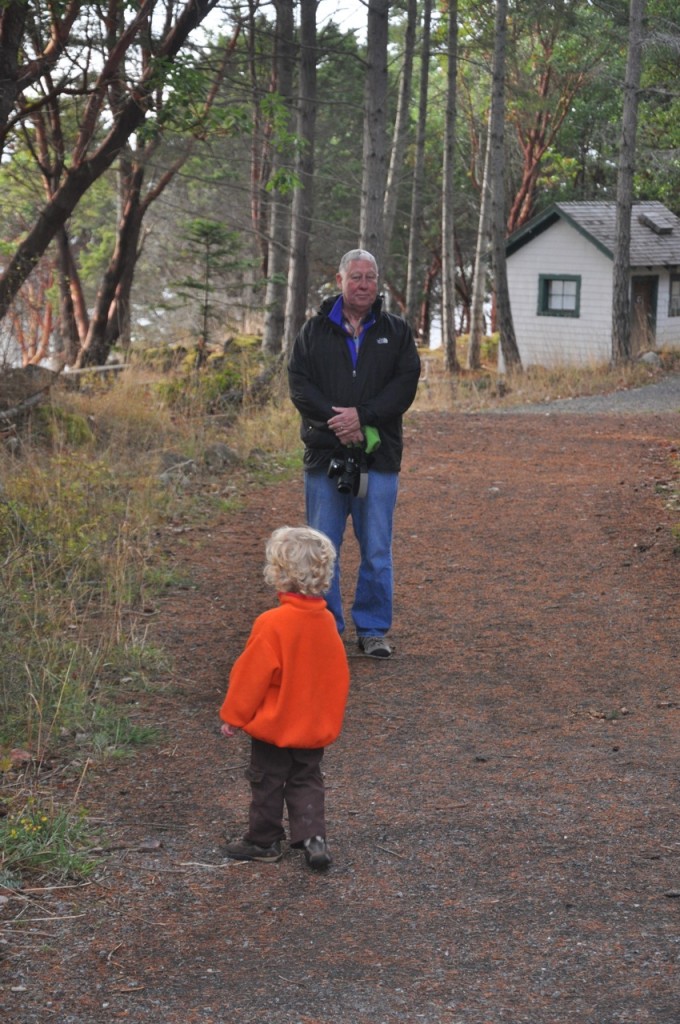 Next we went to Eagle Cove and saw a seal pup on the shore while at least a half dozen adults were hunting offshore.
Finally came home to eat dinner we bought from the fish market on the dock. Chris had salmon while Melissa and Cress had crabs.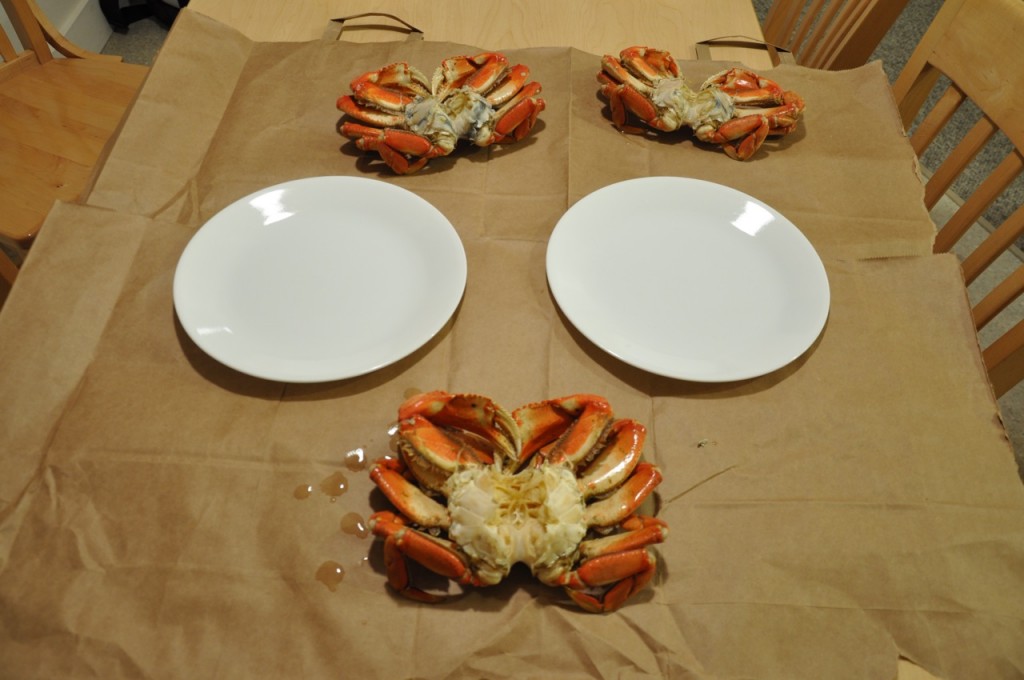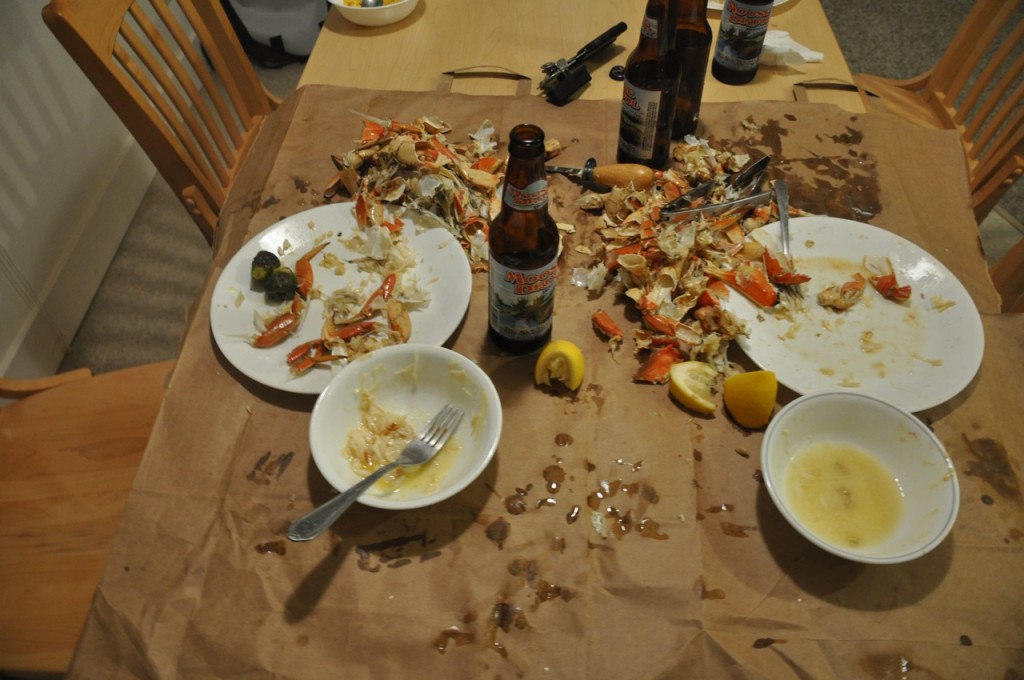 October 11, 2011
We started our family website in earnest around the time Everett was born. The original purpose was to have a corner of the internet where family and friends could keep up do date with where we are and what we are up to. But it quickly grew to be more than that: the website and photography became two new hobbies for Chris, the combined effect of which was to chronicle the life of our family. A couple days ago Melissa called the website "a love letter to me and Everett", which is the highest compliment I can imagine receiving.
On a distantly related subject, Flight of the Conchords is a sitcom about two kiwis who move to New York City to start a band. They have a single fan, Mel, who constitutes their "fan base". For some time we have joked about our website and our small "fan base" which is mainly composed of a couple family members who watch the website so carefully that we receive feedback within an hour or two of posting new material. It is important to keep such dedicated fans happy, and one request we have received is for Melissa and Everett to write a blog entry now and then. We will try to do so in the near future, keeping in mind that Everett doesn't write yet and Melissa doesn't seem to have a lot of extra energy for creative writing, which is most likely a result of the little paper she is working on this semester (i.e. dissertation).
On Monday morning Chris awoke to the sight of Everett's face about two inches away. "Dada, today I didn't say 'Momma, Dada, I'm awaaaake.' I just came in!" Like most days he wakes up at 11 (on a scale of 1 to 10, re: Spinal Tap). It was a great day to work in the same way that Sunday was a great day to play: it rained off and on all day. Everett got to school without drama. Melissa and Chris worked through the morning, then had a quick lunch at the dining hall and then back to work. In the evening we picked Everett up from school and drove to Cattle Point to look around on the beach in a light rain. On the way home we saw our first fox of the trip: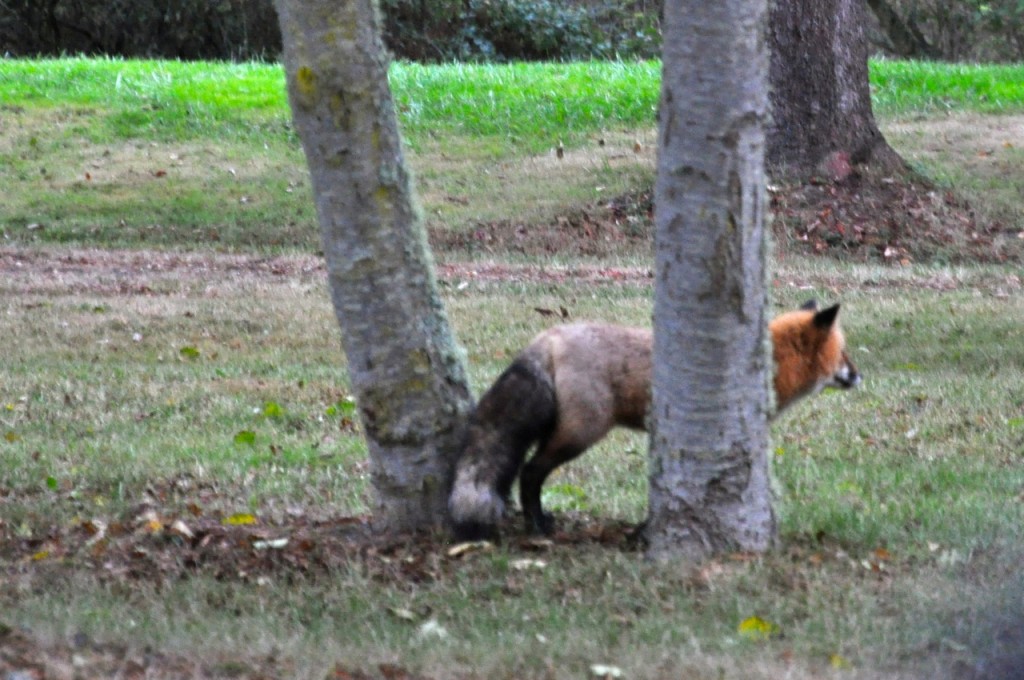 which means that we have now seen almost every animal we came to see except an Orca.
The day we arrived at Friday Harbor was in the midst of a large storm that lasted a couple days. We think that as a result of the storm the turbidity of the water increased quite a bit but it seems to have settled down since then. The water around the dock and shore appears to be much clearer, which is great for creature hunting! On Tuesday morning (today) there were a lot of interesting creatures on the dock. First, there were two nudibranch sightings! The first was a Dirona pellucida and the second was a Triopha catalinae. The biodiversity and coloring of these creatures is fascinating. Finding a nudibranch is often like finding a living jewel in the sea. Chris also captured a Solaster "swimming" on video along with a few other creatures. One lively debate Chris got to witness when he was here in 2004 was about whether different species of nudibranchs can "swim". They can all certainly scoot around on hard surfaces with the appearance of a magic carpet, and some can use the surface tension of the water to float upside down at the surface, but do they have the ability to swim freely in the water? Opinions and observations vary. In the course of this discussion someone mentioned that a Tritonia diomedea will break into a gallop if you brush it with the arm of a Pycnopodia. It's an interesting image to think about. Also, Galloping Nudibranchs would be a good name for a rock band (for nerds and/or electrophysiologists). One final thought: interestingly it has been reported that Pycnopodia will eat tritonia diomedea once, but only once and never again.
All of these movies were made with a waterproof camera attached to a boom which is lowered into the water while Chris stands on the dock. It is remarkably difficult to make movies this way. In particular, it's difficult to know whether the creature you see from the dock is within view of the camera. Many times he has been on the dock bubbling with excitement about the footage he is getting only to find recordings of an empty piling.
This evening we picked up E from school, picked a bunch of blackberries and then went to 4th of July Beach to tromp around for a while and watch the sunset.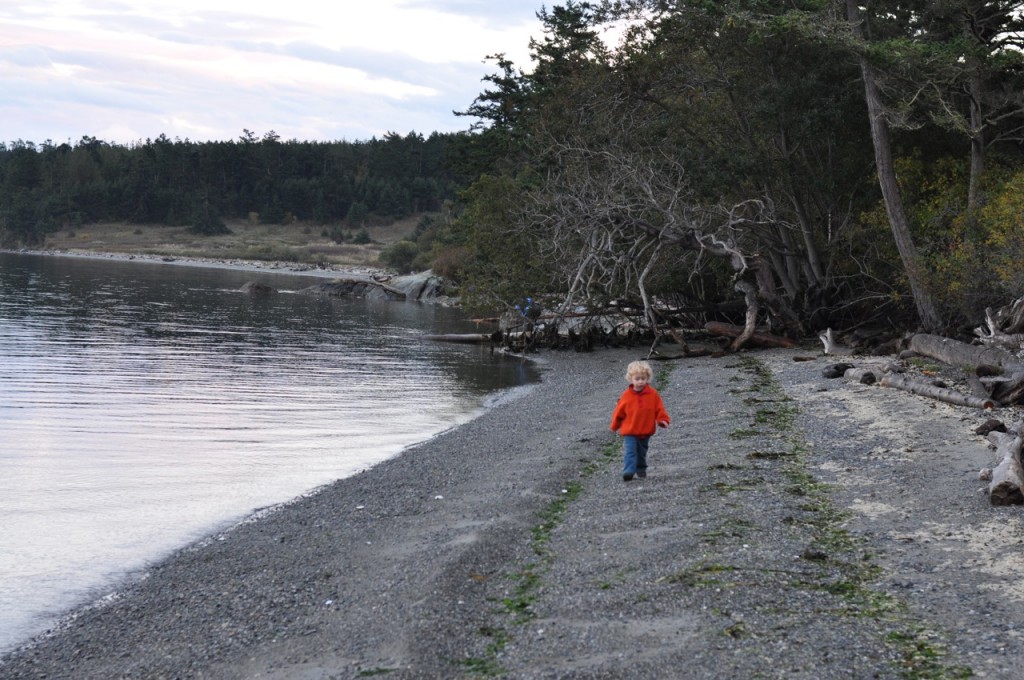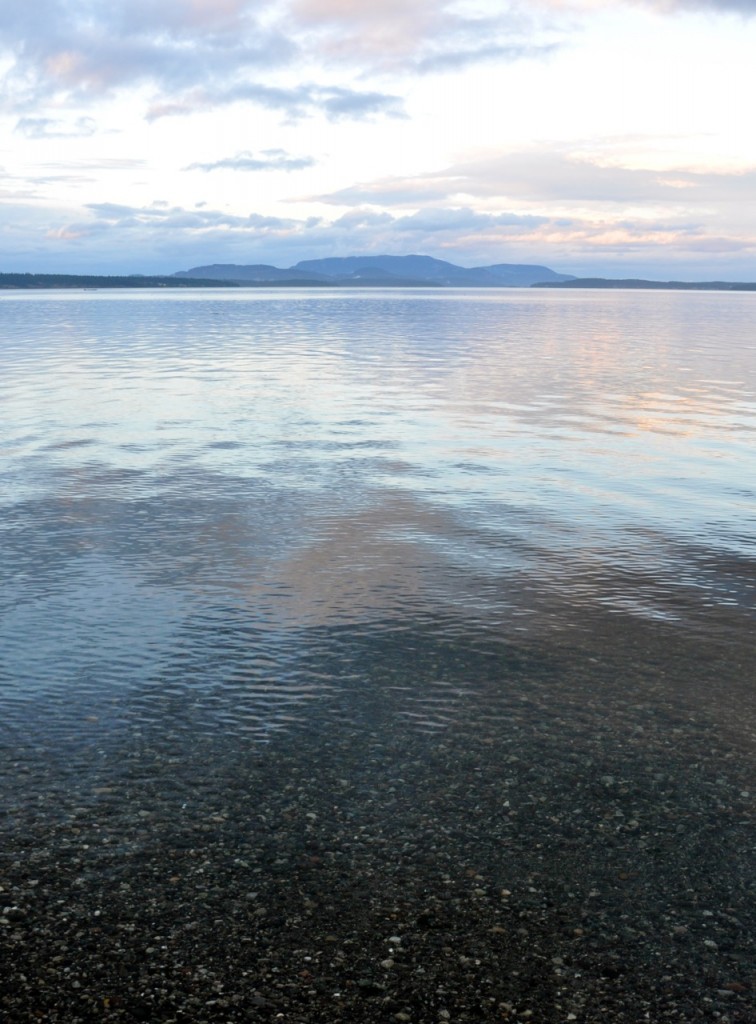 October 9, 2011
Melissa and I have become accustomed to our lives moving along in a fast, efficient and logical manner. However, our life here at Friday Harbor seems to have none of these characteristics. Island life does not have the same buzz as mainland life and that is actually one of the reasons we came here. With regard to logic, we yearn for it but this seems incompatible with raising a toddler whose main priority is control. So our days are filled with work/school/adventures that are interspersed with temper tantrums. Interestingly, despite the fact that Everett seems completely overwhelmed during a tantrum he remembers everything we say and usually acts it out a day or two later in a scenario where he is the parent and something else is the child. A few nights ago he wouldn't stay in bed after bedtime and instead kept coming out of his room and asking for different things like another hat or keychain that was necessary for him to fall asleep. The evening did not go well and as a result he lost iPad privileges for a day (he gets to watch 30 minutes each day). Tonight he put the iPad in a timeout in his room at bedtime, then informed us that it still was not behaving and finally that it had thrown up. He has also started mimicking Chris from time to time, saying things like "Son, I'm not kidding" in a deep voice, which is what I say to him when he is about to get in trouble. It's hard not to laugh when he does this.
Saturday morning we went to the Friday Harbor Farmer's Market, then a bookstore, then the Happy Clam for lunch and finally a used bookstore called "Serendipity, The Used Book Place". This place is, in a word, fantastic! Imagine a small victorian house where every square foot of wall space is covered with rickety bookshelves, including above the doors. The drawers in the built in cabinets are filled with books as well. Everett settled into the reading nook in the Children's area: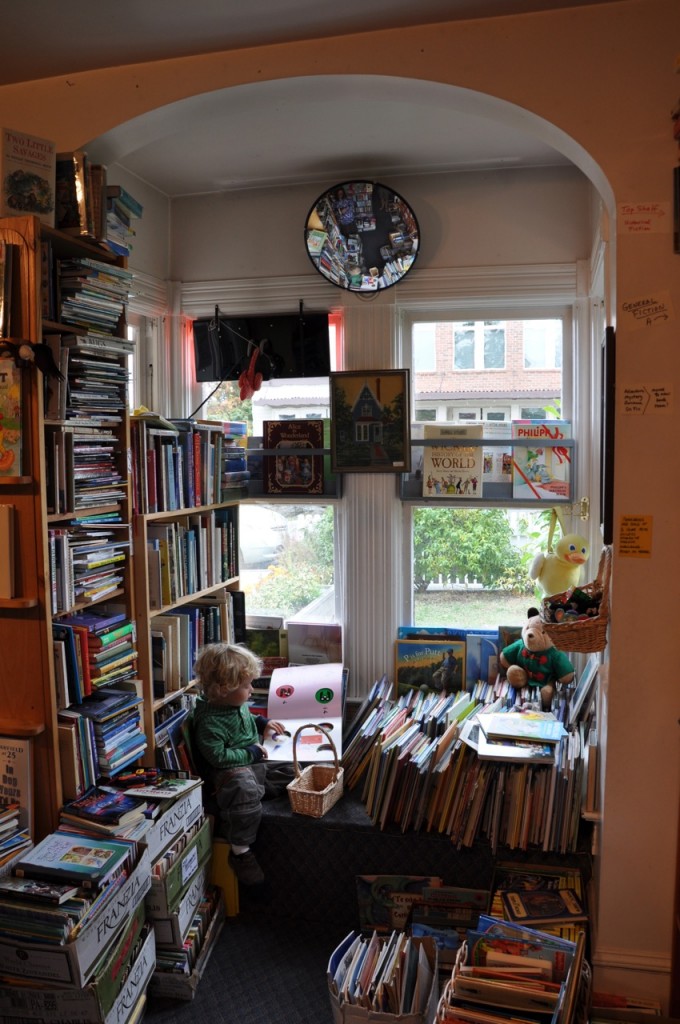 This is a dangerous place for people like us – Melissa and I reminded ourselves repeatedly that we did not have extra space or weight to take things home, especially heavy items like books, so we only bought a few for Everett.
Everett's nap ran long so we hung out at the house in the afternoon and then went to the 17th annual Oktoberfest celebration at the County Fairgrounds. Chris wore his Rohloff t-shirt that Bryon sent him from New Zealand, which was the most German piece of clothing we brought on the trip. It was fun and we're glad we went. It was also an instance where the expectations I mentioned at the beginning of this blog entry don't apply. The event ran from 5:30 to 9:30. We bought our dinner at about 6:30 (kielbasa for Everett and Melissa, spaetzle for Chris), which was fortunate for us because by 7pm they were out of kielbasa and forks (?).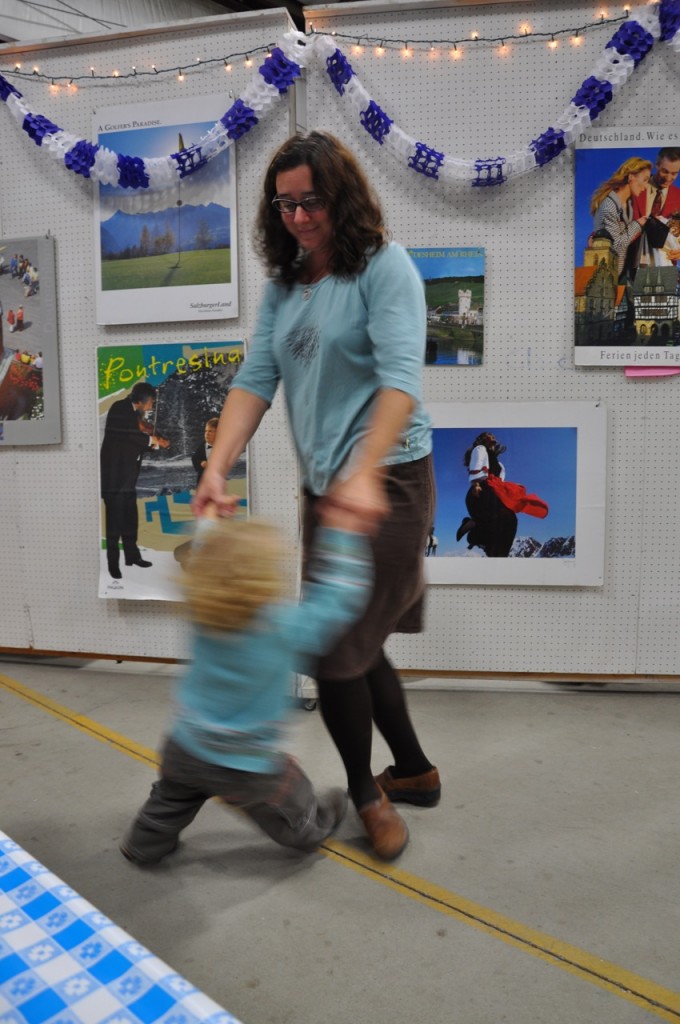 Today (Sunday) was an exceptional day. Everett woke up at 7:40 and got in bed with us. We let him watch Wallace and Gromit on the iPad, which provided us with about another 50 minutes of sleep (yahoo!). Over the last year he has started to quote movies, and at random times he has started whipping out quotes from Wallace and Gromit such as: "I'd like something a bit more cheesy," or "rabbit rehabilitation". This behavior of fearlessly adopting new words into his vocabulary is not new. In the summer of 2010 a neighbor was looking at Melissa's spice garden when Everett informed her that "The cilantro is bolting". We are used to it but it causes some confusion among people who feel certain they misunderstood him.
We had breakfast burritos along with quiche made by my frontier wife and were out the door by 10am. It is astonishing how long it takes to get ready with small children. In a 90 minute period all we did was eat breakfast and get dressed, and even that felt rushed. We drove to False Bay at low tide to walk around in the muck with the birds and other creatures. It was fantastic! It is amazing to see the biodiversity in tidal regions and watch how quickly the tide comes in here.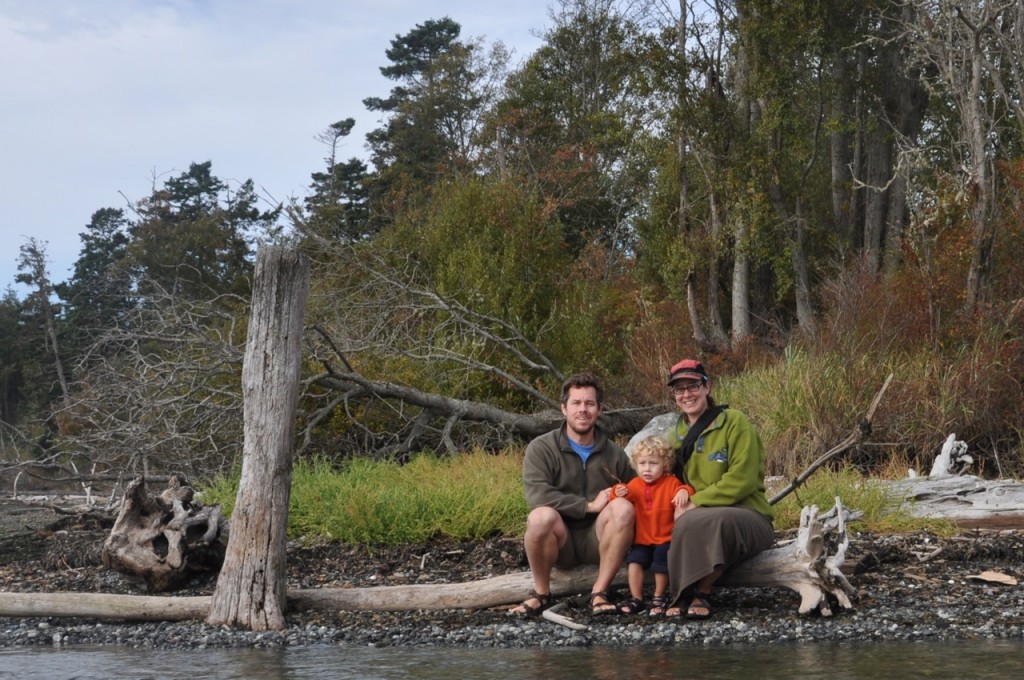 After lunch and nap we went for a hike north from FHL labs (only one tantrum on the hike!) and saw several ground slugs. Everett picked one up and said "That slug sucked onto me!" Pad thai for dinner and then an early bedtime for Everett. Oh, we also visited Chris' former hut from his days here back in 2004, and we explained to Everett that he might not be here if it weren't for that hut.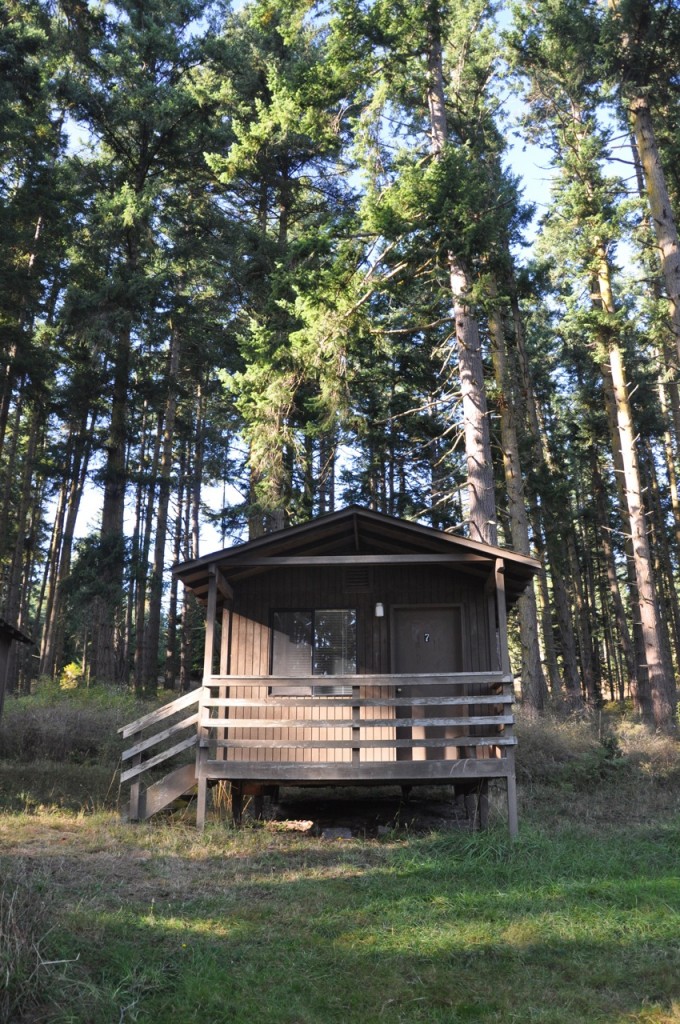 What made the day exceptional was the warm, sunny weather and the outdoor time we were able to spend together as a result.
October 7, 2011
From time to time Melissa says things that Chris isn't exactly sure how to interpret, but rather than ask questions he takes a wait-and-see attitude. Anyway, a couple days ago Melissa announced that she was a "frontier wife". This could be interpreted in a variety of ways. Does this mean gingham dresses, skipping through fields of wildflowers while The Sound of Music plays in the background? Or denim overalls, a rifle and squirrel stew for dinner that evening? Not sure where this is headed in the long run, but tonight we had homemade pie with blackberries that she handpicked on the island.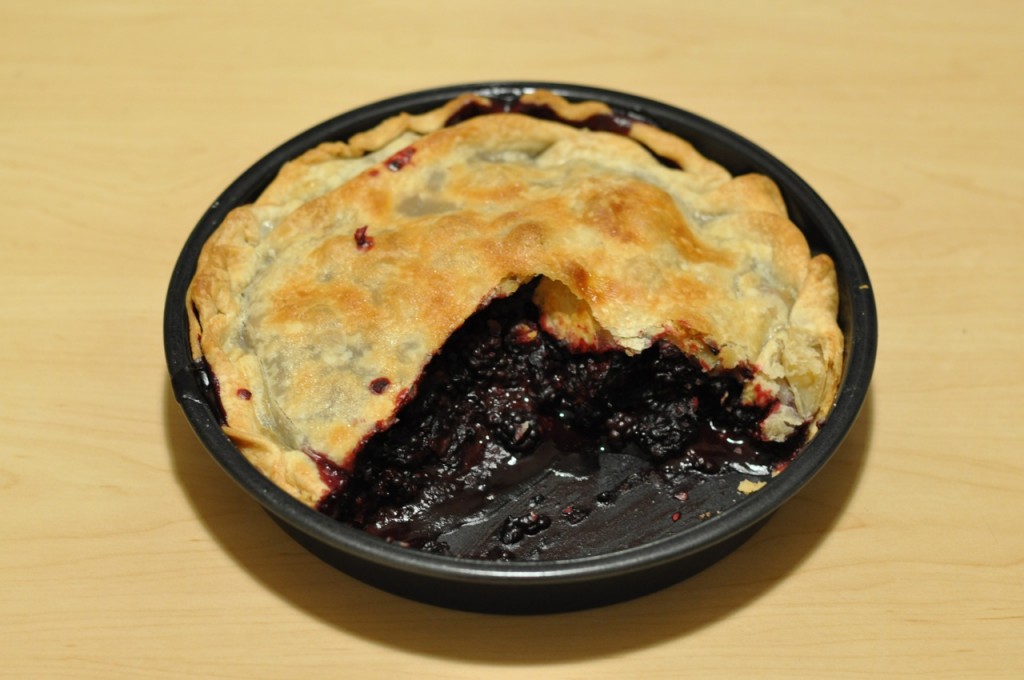 And it was extremely delicious. So far, so good! It turns out that Himalayan blackberries are not native to the island but are plentiful this time of year. Also tonight we finished the puzzle! While putting it away we noticed that it was made the year Chris was born, so it is remarkable that it still has all the pieces. The age of the puzzle is reflective of most things about this place: it feels old and well-used, which is appropriate considering the labs have been here for over 100 years. A couple days ago when Chris was working in the Whiteley Center he noticed the cracks at the bottom of his coffee mug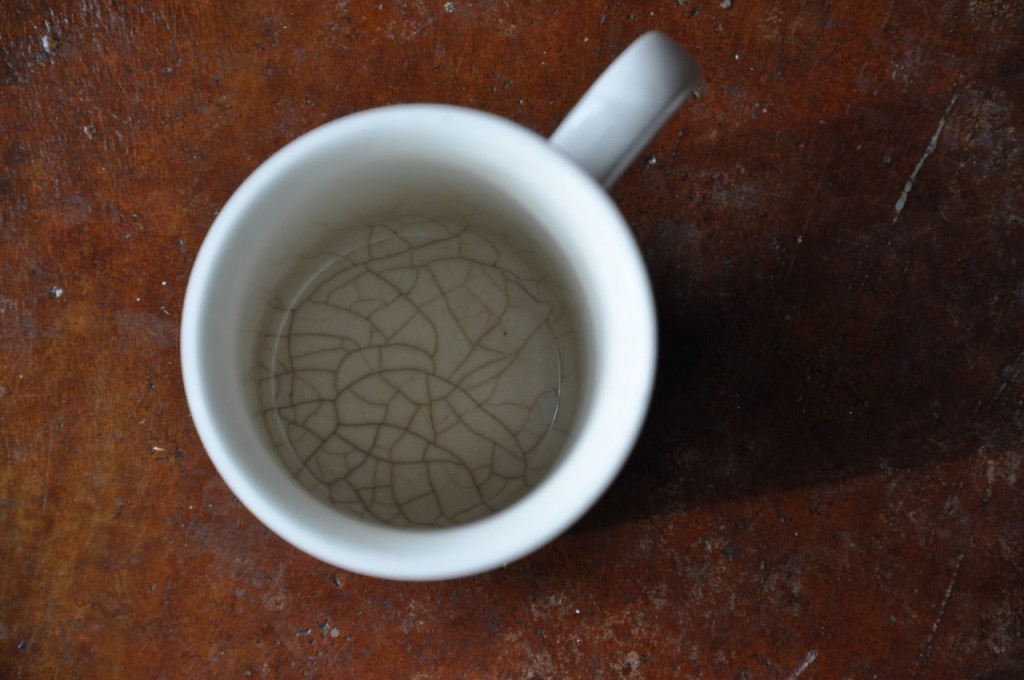 and immediately figured out what this place reminds me of: Grandma's house (Josephine Donnelly, Chris' maternal grandmother).
Since we arrived here we have noted that the low tides differ quite a bit from each other and the lower of the two daily low tides has been in the middle of the night. Fortunately the low low tide is now in the morning and this provides the best animal viewing from the dock for two reasons: the crabs and starfish that live on the dock pilings must move into a smaller volume; we are much closer to subtidal creatures like nudibranchs. Here is some footage from today preceded by Everett doing the Pycnopodia dance:
We returned to the dock tonight to watch the sunset from the rowboat and stayed out until well after dark to watch Friday Harbor television and see the bioluminescent algae. We asked Everett if he wanted to see the algae glow but he misunderstood us and now proclaims that "we are going to see the allergy grow!" We even managed to capture some on the video camera after heavy post-processing: