September 30, 2011
We are starting to get into a routine. Everett awakens around 7, followed by breakfast, some kind of mini adventure and then off to preschool. Today he wanted to combine the latter two, so after breakfast we went to the dock and rowed to school (stopping at the rope swing on the way):
One interesting thing about becoming a parent is the sense of mortality that comes with it. This is partly in the sense that the universe has entrusted us to bring a new life into the world, and those are pretty big shoes to fill. Parents seem to have an endless supply of potential worries and are forced to take calculated risks in order to encourage exploration while keeping everyone safe. The most concise explanation we have ever heard for this was from one of the Tosa Spokesmen that Chris rides with who is a father of four: Mom's think about possibilities, Dad's think about probabilities. This accounts for why Everett is in the rowboat with Dad instead of Mom.
Today at lunch was pretty sunny and Melissa wasn't feeling well, so Chris went to the dock to look for creatures and practice underwater photography, which is more difficult than it appears. The primary challenge in this case is filming from the dock and figuring out from above water which creatures are within range of the camera lens below water. We now have several pieces of footage showing dock pilings with the extremities of some very interesting animals just peeking into the edge of the picture. Fortunately Chris was able to get some decent shots today in the bright sunlight, including the first nudibranch sighting of the trip! We think this is some variety of Dendronotus. But in the mayhem and exhaustion of the days leading up to this trip Chris forgot to pack his copy of Pacific Coast Nudibranchs. Fortunately we are at a marine biology laboratory, and if memory serves correctly the library is open 24 hours a day, so a midnight trip to sort this out might be necessary. In any case, this is what we captured today on video:
One final note: a few nights ago we mentioned a flashlight that was our first equipment loss to the sea. At the time I didn't mention who lost the flashlight because it didn't seem important, and because the person who lost it probably feels badly enough anyway, but apparently the word is out in town. When we picked Everett up from school today a girl his age walked up to Melissa and asked "Did you, um, did you drop the flashlight?"
Curiously, we noted its exact location and Chris returned to the dock at low tide (around midnight) to retrieve it but it was gone. Leading theories about where it went: someone else found it first; it rolled away in the current; a crab or some other animal took it. All of these seem unlikely for different reasons.
September 29, 2011
Everett awoke about 7ish this morning and called us the same way he does at home: "Mama, Dada, I'm awaaaaaaaaake. Come pick me uuuuuuuup." It's not possible via text alone to express the intonations of his voice, but it's pretty funny. What is also funny is that when he sleeps at home we put a gate on his door to keep him from wandering out of his room during the night. He is completely capable of climbing over the gate, and on a couple occasions he has pushed it off the door (it's only held in place by friction), so it isn't doing very much as a physical barrier. However, he respects it and even uses improper gate alignment as a procrastination technique before bedtime. At our FHL house there is no barrier on his door at all. Yet when he calls us in the morning he won't come into our room until we tell him to. I guess he likes having a system, and in that regard he is a lot like his Mom :).
The weather was beautiful today. It was also a pretty productive day with regard to work. Melissa and Chris went for a short hike at lunch.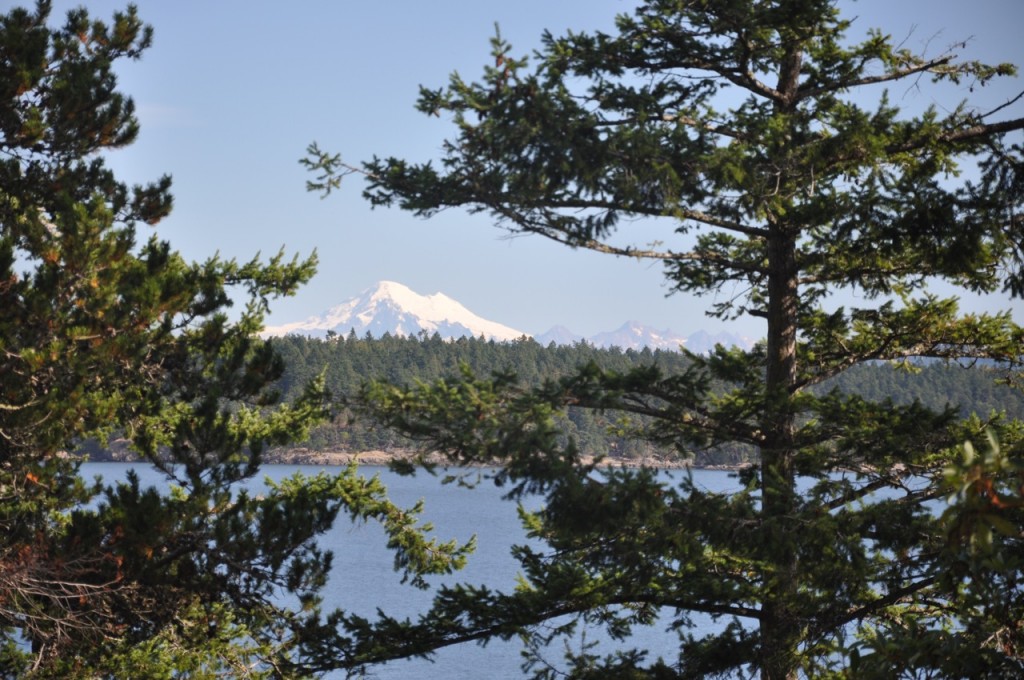 After school the three of use went for a hike before dinner. We started on the trails leading north, then turned east and went down to the water to explore the rocks.
Dinner was grilled cheese (at Everett's request). He ate a standard one while Mom and Dad had fancy ones made with bacon, pear slices and strawberry jelly. Surprisingly delicious, but next time we will probably try a different kind of jelly like fig or currant.
September 28, 2011
Today Everett woke at 7am. This is great progress considering the last few days, and possibly reflects the work we have done at home as well. We recently put a digital clock in his room and taught him that he shouldn't wake us until it reads 7:00. Somewhat surprisingly this worked after a brief training period, though he did attempt innovative solutions to this problem like changing the time until it read 7:00. Technically we can't fault him for this because he was still doing what we asked. This is perhaps another example of how we, the parents, put a damper on the seemingly inexhaustible supply of innovative but not-so-good ideas that he comes up with.
After awakening we had a quick breakfast and then walked to the beach. FHL is in a biological preserve, so it's not surprising that there is a lot of wildlife here. If you can look outside then you can find deer – they are more numerous and less fearful than squirrels at home. On our way to the beach we saw a few deer, followed by jellyfish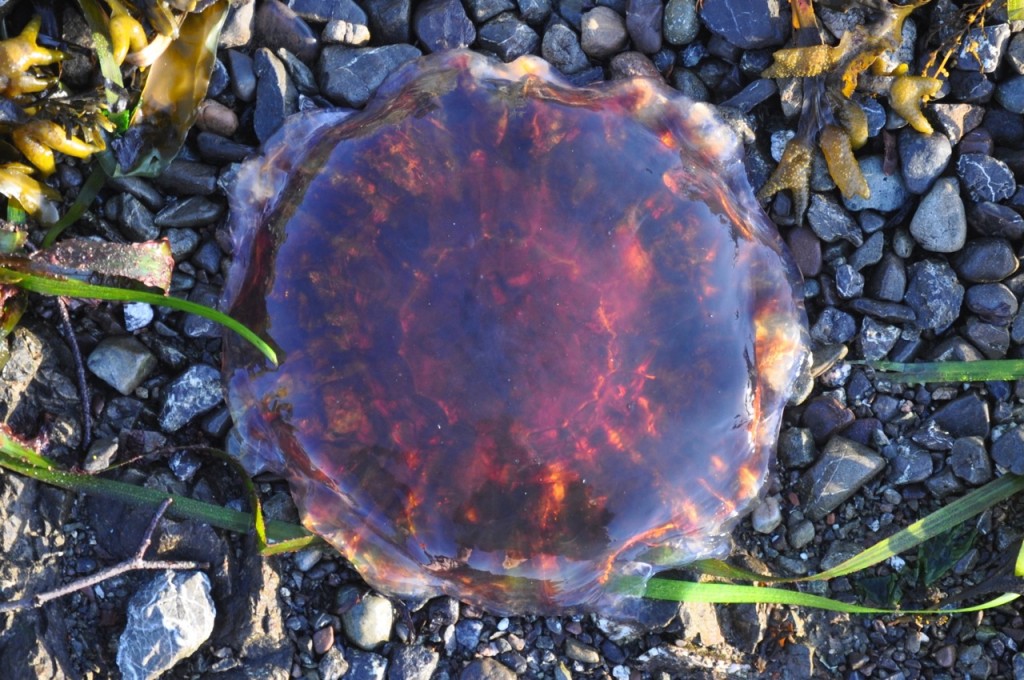 and our first seal sighting (or sea lion – we can never tell them apart).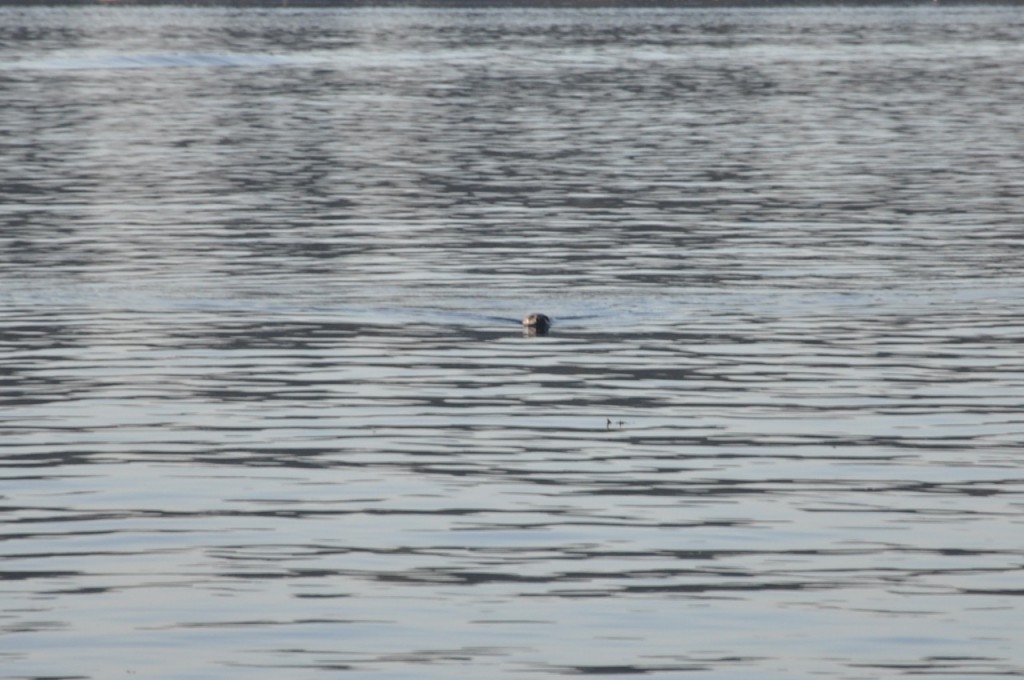 Fantastic, and later we saw at least two of them several times during a post-school rowboat ride. We also saw our first snake today when Chris almost stepped on it. Chris recalls seeing many varieties of small snakes here before and the one today was about two feet long, which is actually large compared to the ones he recalls from a few years ago. The National Park Service reports that every snake on the island is probably some kind of garter snake. Lastly, today we saw our first Pycnopodia since arriving: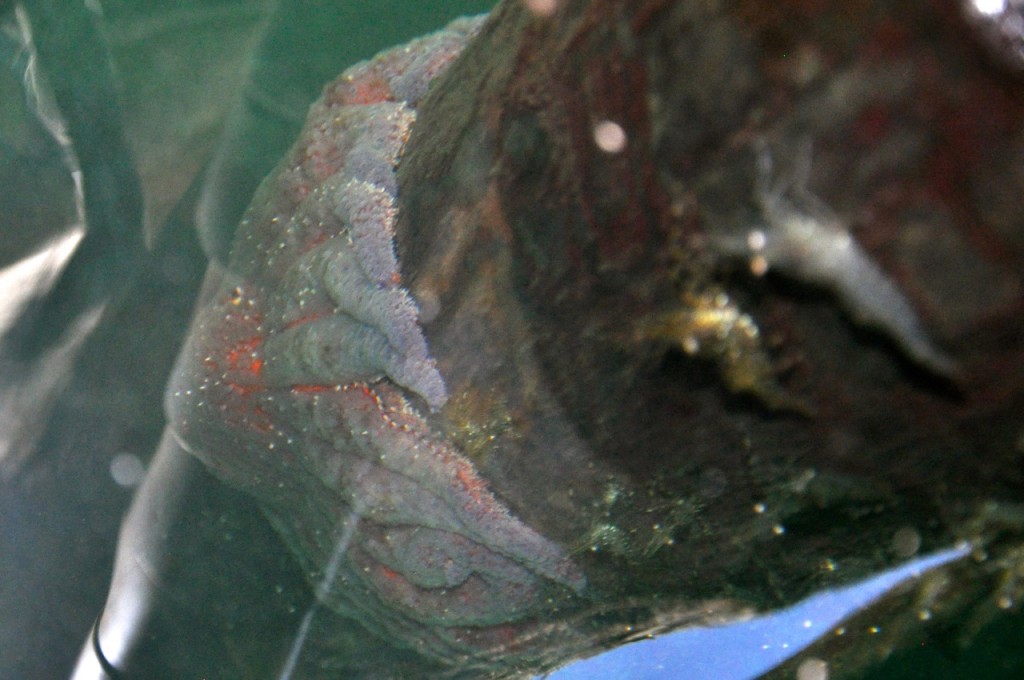 This picture is not ideal because of the lighting, but the water has been pretty turbid since we arrived so it has been difficult to see deeper than a few feet below the dock.
This evening the sky was quite clear and we were able to see two snow-capped peaks in the mainland. First was Mt. Baker which is directly east: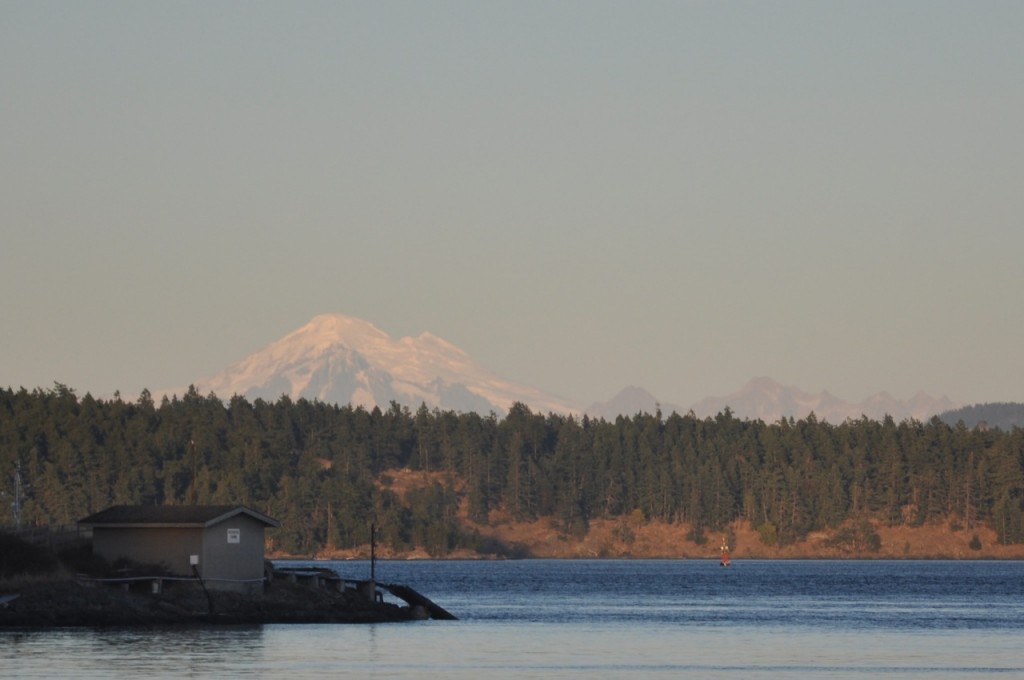 Second was possibly Mt. Rainier, though this seems unlikely. We will have to do some research to identify it: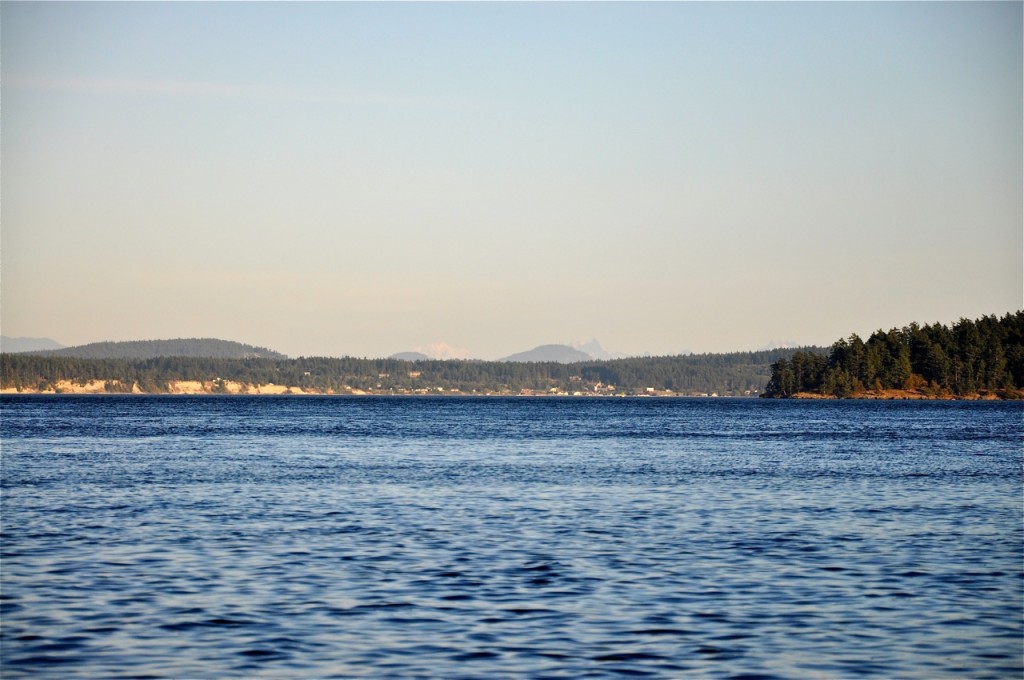 September 27, 2011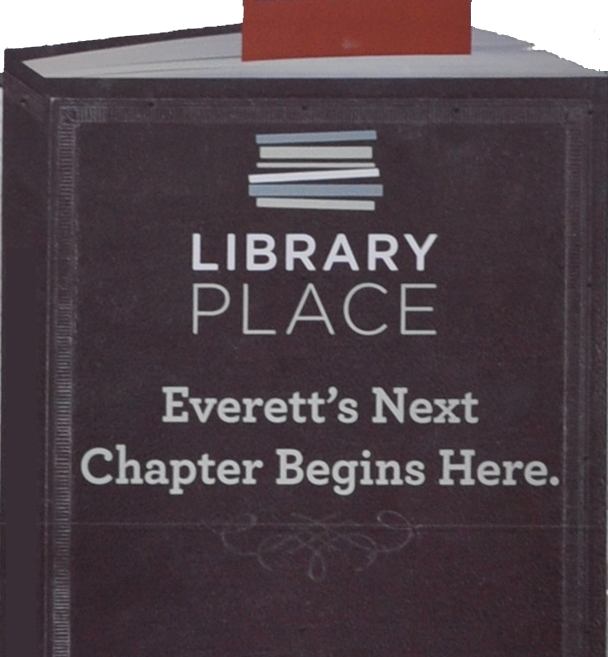 When we were in Everett, Washington we saw the above sign, which seems completely appropriate given our current situation. Everett woke us up before 7, not as disastrously early as our first night here. After breakfast, Chris drove him to the first day at his new preschool. The dropoff was rough. For at least a year now we have had no drama when dropping him off at school. However, in the last few weeks he has started clinging to Chris once we arrive (interestingly he doesn't do this with Melissa). The same happened at his new school, which is much more understandable given the new environment and the fact that he doesn't know anyone. We had to peel him off when it was time to say goodbye. Rough for everyone.
Afterward Chris went to his new office for the day and Melissa setup camp at the cottage. At the end of the day both of them rowed to town and then walked to school to pick him up. He was happy to see us, and the teacher said that the morning drama during separation lasted only a minute. She also said he was a talker, which we already knew, and is not a surprise to anyone who has met Melissa, particularly those who knew her in childhood.
On the way back to the boat we stopped at the Friday Harbor Seafood Market and bought some salmon and crab legs for dinner. Rowed home, cooked dinner and then returned to the dock after sunset for Friday Harbor Television, which consists of lowering a bright lamp into the water and seeing who shows up. Tonight we saw a couple species of crab, some shrimp some small eels or seasnakes and some small fish. We also saw Chris' flashlight go tumbling to the bottom during the first equipment casualty. Looks like we did not attach floats or lanyards soon enough.
Here is a brief video of the trip home from school and Friday Harbor TV:

September 26, 2011
Everett woke up in the fives, as in before 6am, and it isn't really possible to sleep in the same room where he is awake. We knew that there was a ferry at 8:30 and another at 9:30, that the ferry terminal was about a half hour away, that we had to be there a minimum of 20 minutes before departure, and that Oyster Run '11 had taken place the day before, which is why all of the hotels in Anacortes were full. Given our wakeup time we decided to go ahead and have the hotel breakfast and try for the 8:30am ferry to Friday Harbor. We told Everett about the ferry some time ago and he has been talking about it for over a month. He seemed particularly intrigued by the thought that we would drive our car onto a boat.
It was a cold, rainy, extremely windy day. We rode the Elwha, which is one of the largest in the fleet, and during the 90 minute trip Everett encouraged us to explore the entire boat.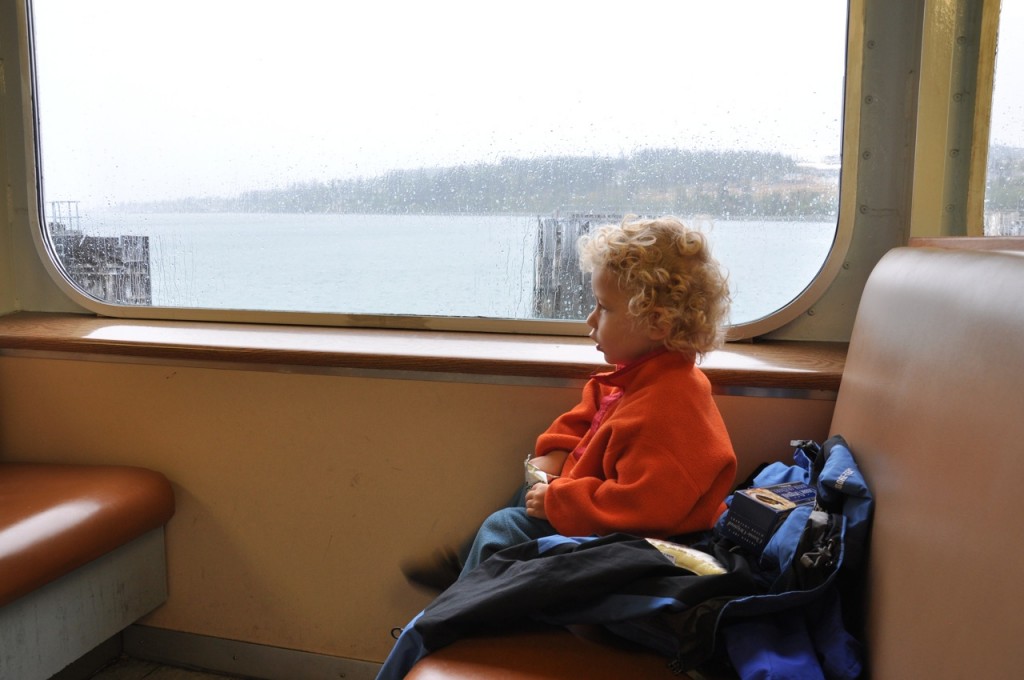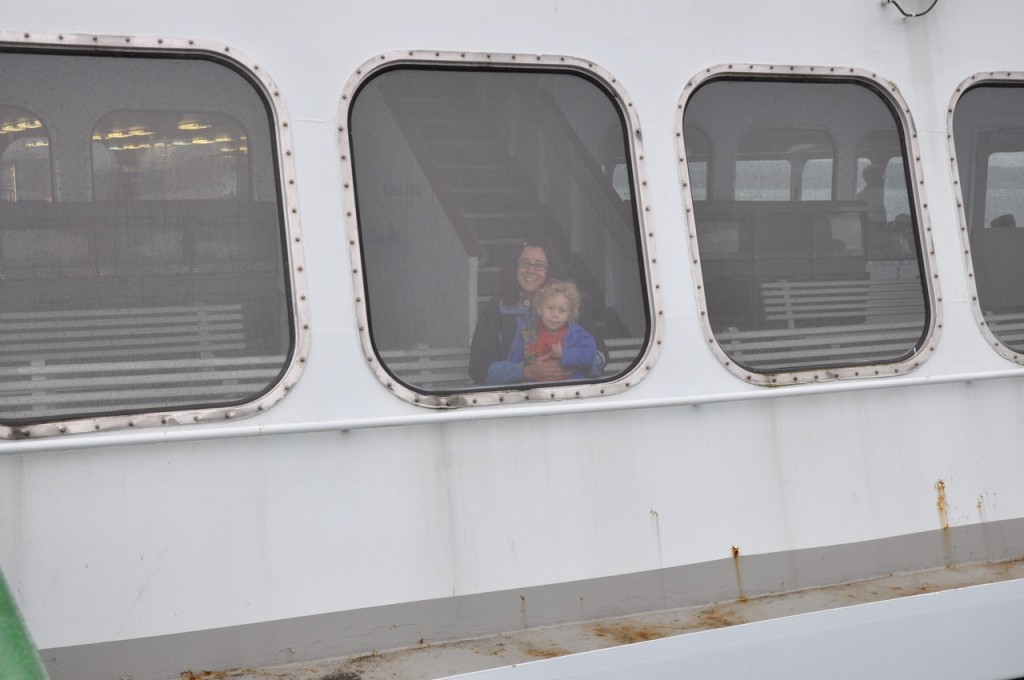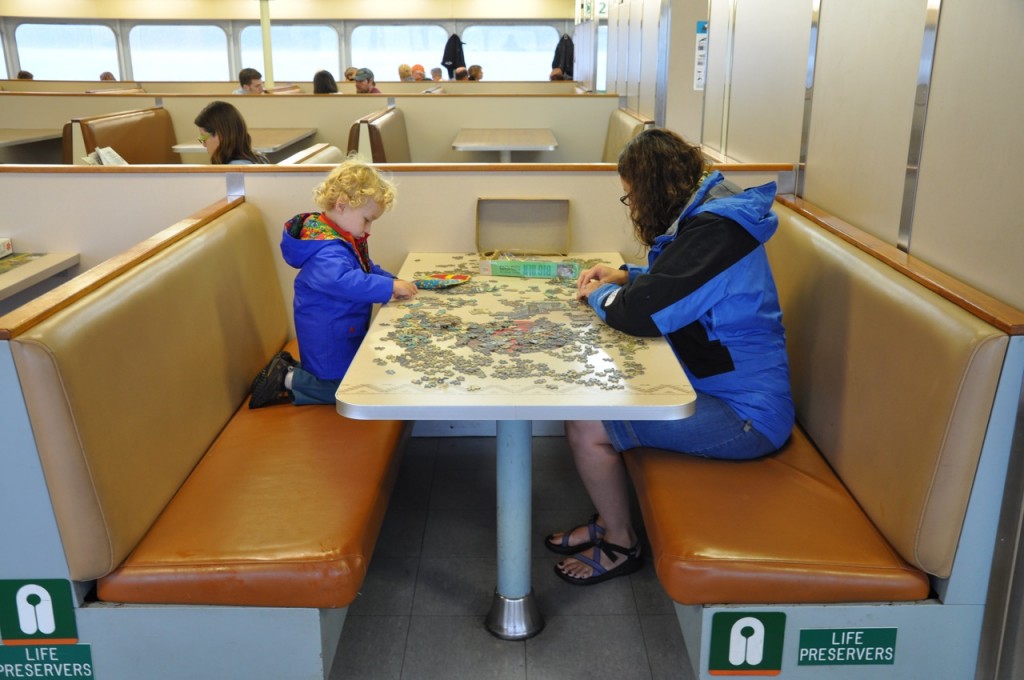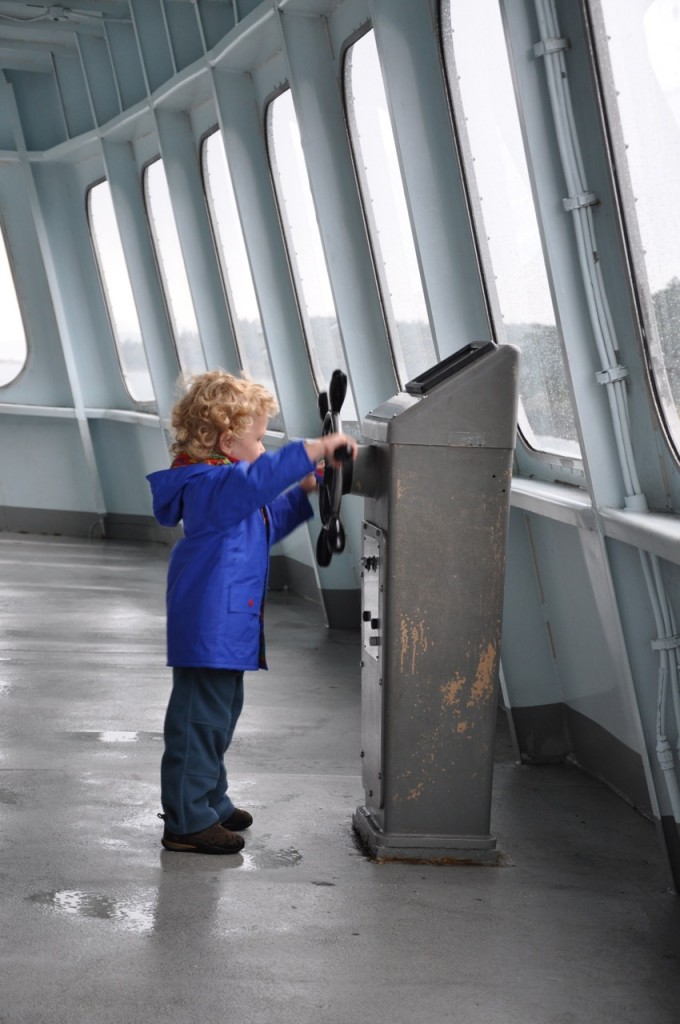 The amused looks we got as we passed by some passengers multiple times was one of many bonding experiences we have shared with other parents.
We arrived in Friday Harbor about 9:45. First stop: coffee. Second stop: grocery store to pickup cold items that we couldn't buy the day before. Third stop: FHL, where we were told that we couldn't checkin early. So we went to Everett's new preschool to say hello and drop off some forms, then returned to FHL after lunch and moved in to our cottage. The rest of the day was spent looking around and getting acclimated. Everett took a car nap followed by a long afternoon nap. We woke him up at 5pm to go look at the dock. Linguine with meat sauce for dinner that night followed by games and early bed for everyone.
September 25, 2011
We left for Friday Harbor on Sunday, September 25. The days leading up this were extremely busy, almost a blur. Fortunately, Everett was at Gabby and Grandaddy's house for a week beforehand – Melissa drove to Indiana and met them for an exchange on Friday, September 16. A week later they drove to our house to drop him off, and the next day they returned to Cincinnati, just in time to host brunch on Sunday morning before the Bengals game. This was the first time since Everett was born that Chris and Melissa were home together without him, and it was somewhat strange at first. When Everett left he said "I will be gone for a week and you will feel empty". This was true, but we adapted rather quickly. We went out to dinner the first three or four nights and increased the amount of time spent working. Also, Chris made a whirlwind 40 hour trip to Cleveland to take care of our house on St. Albatross in Cleveland Heights, which we are trying to sell (again). He took the overnight train to Cleveland, worked all day and took an overnight train home. Then back to work immediately followed by a few hours sleep and then a half-day symposium on Saturday. Finally a mad dash to finish getting ready for our airport shuttle at 6:40 Sunday morning. Exhausting.
For the next four weeks we will be living at Friday Harbor Laboratories (FHL). Melissa will be working on her dissertation and Chris will be doing research. Everett will be in a new school full time. He is generally a good traveler and an adaptable kid, though we might be asking a lot of him on this trip in terms of adjusting quickly.
Chris has worked at Friday Harbor before. In 2004 he was here for a month to perform electrophysiology experiments on Hermissenda Crassicornis. It's a somewhat romantic idea for doing research: go out in the morning and try to catch the animals you will study later that day. Every researcher gets his own tank which is continuously bathed in fresh saltwater to house whatever he catches. FHL has a long and well-deserved history in neuroscience, and is a vibrant environment for marine biology research. That month was one of the best in Chris' life. In addition to the work and living environment, he brought his bicycle and on the ferry ride to the island met a guy named Mark who wrote books about quantum string theory and who lived a bit off the grid. When Chris mentioned he was looking for a kayak, Mark offered one of his and dropped it off at Chris' hut the next morning. Each day's work was punctuated with bike rides, hikes and kayak trips. Melissa and Chris started dating in February of that year and Melissa visited Chris on the island over the long July 4th weekend. This visit was, from Chris' perspective, The Big Test of compatibility. That weekend was filled with nonstop biking, hiking, kayaking, swimming and other adventures. It seems that Melissa passed the test. We were engaged the next year, married the year after that, and now seven years later we have a house and a 3 year old son. So it worked out pretty well, and now the three of us are returning for a month together.
We left Milwaukee early Sunday morning and flew nonstop to Seattle. Picked up the rental car, ate lunch at Ikea and headed north. As we travelled north we noticed the traffic situation was getting more and more strange. Lots of police cars with flashing lights, especially on the bridges over the interstate. Once we got off the interstate we realized that it was impossible to drive into downtown. That Sunday was the opening game for the Seahawks, and more importantly President Obama was visiting that day. We have never seen anything quite like it: all bridges into downtown were closed to vehicle and pedestrian traffic. We also noticed that there were no cars on the southbound lanes of the interstate and soon found that it was completely closed to traffic. So we gave up on visiting Seattle and drove north, first for coffee and then for a trip to to Trader Joe's to pickup groceries. Then made a brief stop in Everett to take some pictures and stop at a playground so that we could reward Everett for being such a great traveler, and so that he could get some wiggles out. Drove a bit further north and spent the night in Mt. Vernon after dinner at a Mexican restaurant. Everyone was pretty exhausted so we had an early bedtime.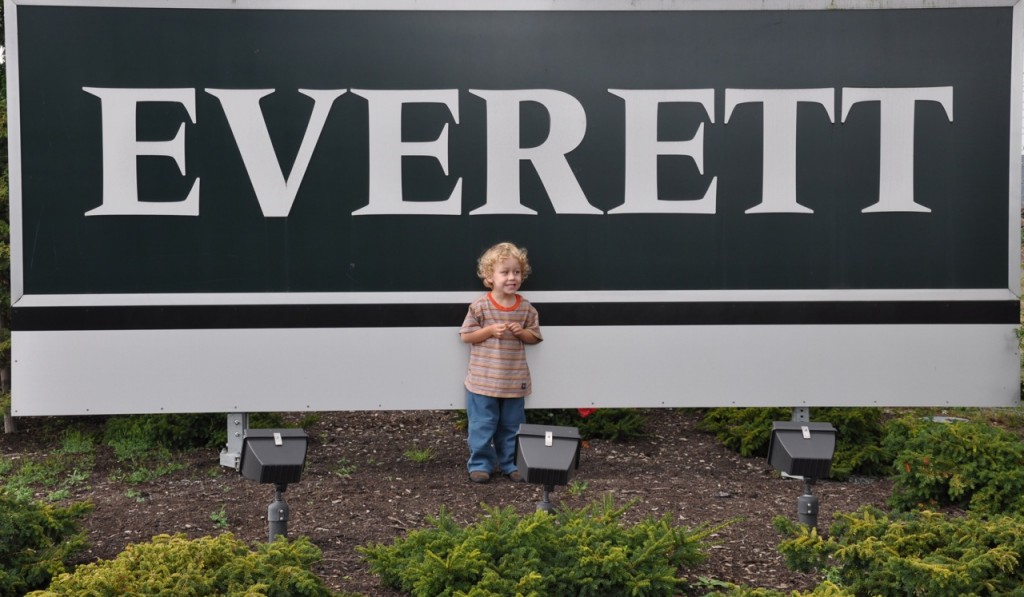 September 25, 2011
For the next four weeks we will be in Friday Harbor, Washington. During this time Chris will be doing research, Melissa will be working on her dissertation and Everett will be in pre-school. We hope that this will provide a much needed interruption of our busy lives at home, as well as a chance to reconnect with parts of our lives that, while important, are not urgent and are therefore sometimes overlooked. This visit also provides some continuity for our family. Chris spent a month here in 2004 and Melissa visited for a long weekend over July 4th. This was a turning point in our relationship, and now we are able to reflect on the last seven years (seven years!?! Time goes by so quickly), our marriage and of course Everett.