May 31, 2011
Memorial Day weekend was the occasion for another annual gathering of the Barber-Birch-Singer clans for camping at Clifty Falls. Here's a 360 degree view of our island of campsites:
This event is now attended by three generations of campers, so labels like parents and children no longer have the precision they once did. To address this we named the different groups: the grandpas (aliases: Pa, Gramps and Grandaddy) are the Silverbacks, the grandmas (aliases: Dia, Gramma and Gabby) are the Pearls, the next generation are the Young Bucks, followed by the children. The weather was perfect if you don't count the severe storms and tornado warnings that the Silverbacks endured on Wednesday night. The days were warm and sunny while the nights were cool. We left after the Indianapolis 500 on Sunday before it got really hot at night.
We have a system for getting to Clifty Falls: leave Thursday night around Everett's bedtime, stay at a La Quinta in Indianapolis and then drive the remaining two hours on Friday morning. Some of you may recall that we have had mixed success sleeping in the same room with E. However, this was the first time he slept in bed with us and did not perform his human tornado imitation, so everyone was able to get some rest. Similarly, we did not bring the pack and play for the tent, and instead he slept in a sleeping bag on a thermarest for the first time. It worked out great, and could only have been better if he went to bed earlier and got up later, but we had no illusions that this was going to happen with such long daylight hours or so many children and activities. As always, Gabby and Grandaddy's morning sleep routine is significantly curtailed when E is around. As soon as he woke up he would go into their tent for playtime. We couldn't see exactly what they were up to but the screams of laughter indicated that everyone was having a good time. Everett and Grandaddy were able to slip away on a hike and find some wild turkeys thanks to E's turkey call.
Everett seemed to have a fantastic time. There were many other children to play with, and he seemed to have no difficulty joining in the group even though most of them are older. He was admitted into the Kid's Clubhouse, which is a pretty big deal. One of the highlights of the trip was a large mud puddle at the playground. I have been to Clifty three times and every time there has been standing water under the tire swing. However, this year it was filled with hundreds of tadpoles who provided hours of entertainment. Other highlights: the piñata, which all the children took a whack at, including Everett. Bubbles were once again a popular activity. Chris brought the giant bubble maker and some special homemade bubble solution. He also showed the children that if you wet your hands with the bubble solution you can catch them without popping them. Lastly, we celebrated Everett's birthday a few days early with some cupcakes. Photos of the trip are here.
We note that after we buckled E into his carseat to leave the park on Sunday he was asleep within two minutes. And we suspect that this level of activity and exhaustion will continue for the next week or so while Everett is at Camp Gramapa in Cincinnati.
May 26, 2011
P was one of the first letters that Everett could reliably identify. It has also been a subject that comes up often as we navigate potty training. A couple months ago we switched from diapers to underwear during the day, and along with that came increased awareness on everyone's part about the need to use the bathroom. This is a transition that Melissa and Chris have been encouraging Everett to make for some time now. However, it wasn't something Everett took seriously until his teacher Ms. Erin told him "Everett, it's time to start wearing underpants." One thing that helped was that the prerequisites for going on fieldtrips are that you have to be three years old and potty trained. This was clearly an issue of motivation rather than ability.
Everett engages in rituals that seem, at least to his parents, unnecessarily elaborate. Tonight upon picking him up from school he took off his shoes, put on his monster slippers, put his duck slippers on his hands and then we had to find the branch of a weeping willow to drag behind the bike.
As a result of potty training, bathroom stops have also become a ritual part of our commute. One day on the way to school in the Bakfiets Everett said he had to pee. We know from experience that he doesn't give us much warning so Chris stopped and Everett went in the bushes. He excitedly told his teachers at school about it, which they found hilarious. Everett loves being outside and this provided him with one less reason why he needs to go inside. We try to confine this to the backyard but one day recently he started peeing in the front yard to the amusement of Melissa and two other neighborhood Moms who have boys of their own.
May 15, 2011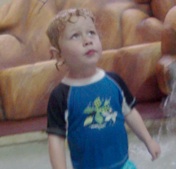 For Mother's Day weekend we went to the Great Wolf Lodge near the Wisconsin Dells. We told Everett about it a few days ahead of time and he latched onto the idea immediately, despite zero prior experience (that we are aware of) with any kind of wolf lodge or waterpark. He talked about it for days, and by the time we arrived the name had changed to the Great Great GREAT Wolf Lodge! Chris had been to the Dells once long ago about age 8 with Gramsy and Grandpa. The most memorable part of the trip was the boat rides through the upper and lower dells. Since then a number of waterparks have appeared, some of which have huge indoor areas like the Great Wolf Lodge. Everett took to it right away. The first slide we rode was one of the larger ones, and from there we slowly worked our way down to the toddler area, where the slides seemed comically small by comparison, and Everett showed little interest in them. Another favorite was the wave pool, which had periods of calm and periods of waves, and the latter was always preceded by the sound of howling wolves that could be heard throughout the park. When the waves came he would hold on to Chris and they would bob up and down, with sound effects.
It has been fascinating to watch Everett's personality develop. Over the last year he has developed the cognitive abilities necessary for imagination and humor. With regard to the latter, he has developed the ability to understand the idea that Melissa I sometimes tease him. And he has started to formulate his own jokes: at the waterpark there were a few times we said to him "Let me show you a trick", like doing somersaults in the water or flipping the innertube over. There were a couple times we didn't time things quite right in the wave pool and he ended up with a mouthful of water. After sputtering and coughing the water out he said "That's my trick".
Everett stayed in the Wolf Den, which was the kids room within our room.
He loved it, and it allowed us to preserved some privacy (we have learned that no one sleeps well when he is in the same room with us). We thought that having his own room, combined with several hours in the water, would encourage sleep, but this didn't seem to be the case. We swam for two hours on Friday night and about 5 hours on Saturday. Sunday morning he awakened by bolting up in bed and saying "Is everything open?!?" After breakfast and then a couple more hours in the pool he still did not seem unusually tired. When I told this to Dennis, a neighbor and father of three, he said "I think you have entered the aquatic phase". Indeed. One indication of the impression this made on Everett: a week went by before he would let us remove his Great Wolf Lodge bracelet.
Chris recently bought a new camera which is simple, portable and waterproof. This trip was a great chance to test it out. Everett used it to take his first photo:
And we used it to document a few parts of the trip:
May 6, 2011
On the Friday before Mother's Day Everett participated in his first school performance, which was to sing The Muffin Man with his classmates for the Moms (and a couple Dads) who came to school that afternoon. It was very cute, and was followed by muffins and milk. After finishing we were surprised to observe that Everett cleared his place at the table, putting his plates and napkin in the trash without being asked. Our immediate reaction was: you are busted kid! He never does this at home, nor do we ask him to, but it is an illustrative example of rookie parents who have lower than necessary expectations. It is also an example of the steps necessary to maintain order for his teachers, who need to orchestrate the care of several children at once.
May 4, 2011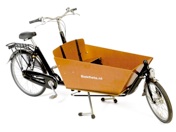 This time of year in Wisconsin is a season without a name. The three month period from about the beginning of March to the end of May is a time when winter is (mostly) over but spring hasn't arrived yet. It is a meteorological no-man's land during which it's too warm for winter sports but not quite warm enough for spring or summer activities. Temperatures hover around 30 or 40 degrees; snow and other forms of frozen precipitation are never out of the question. However, it is usually warm enough to take Everett for a bike ride, assuming he will wear a jacket and other clothing, so it seemed like the right time to get the Bakfiets. This is a cargo bike that is specifically designed for hauling kids and other stuff, and is something that Chris has wanted for many years but was never able to acquire. He first saw this style of bike in Denmark and the Netherlands, and visited four different manufacturers in those countries in an attempt to buy one but heard the same story every time: we don't sell to the U.S. The reason why was somewhat anathema to capitalist thinking: they were doing fine and didn't need the extra business. Besides, U.S. customs was a huge pain to deal this. A couple of them said that they might sell me one if we pre-paid for it and arranged for a shipping company to pick it up from the factory, package it and send it. We basically gave up on the idea until finding out that cargo bikes are becoming more popular in the U.S. They have (sort of) entered popular culture, and several bike shops in Chicago have quietly started selling them. After a scouting trip with Everett and test rides on 3 or 4 different bikes we decided to get the Bakfiets from the Dutch Bike Co. If you look at pictures you may notice the same thing we have observed many times: Europeans generally don't wear helmets. I have friends who speculate on the reasons for this, mostly having to do with worldviews of how much control we actually have over our destiny, but given our preoccupation in the U.S. with safety from things as big as meteors and as small as microbes it's not a big surprise that we wear them. Whatever the worldview, we wear helmets in our household.
Getting back to the weather in Wisconsin: during the maiden voyage of the Bakfiets from home to pre-school, Chris and Everett left the house under cloudy but dry conditions. After a while it started to rain, then snow and by the time we got to Everett's school it was hail. Classic. My cycling friends might say we were practicing Rule #5 from The Rules, but this hardly seems appropriate at his age. In fact, it seems like a great way to discourage him from doing it again. A much better approach is to make sure that epic outdoor adventures are done in a controlled manner followed by treats such as hot chocolate. Fortunately this experience did not discourage him. He was ready to go again the next morning and has asked to ride on it every day since then. In the few days we have been riding several people have asked if I made it. I'm not sure exactly how to interpret this but I'll take it as a compliment – I certainly would have tried to make one if I had that kind of free time on my hands.
The great thing about this bike design is that children are in front of you rather than behind you in a trailer. Here is Everett's view of the ride: