May 25, 2009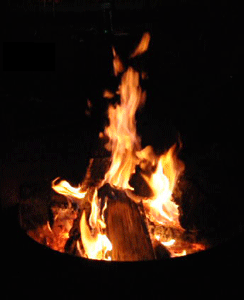 For Memorial Day weekend we took Everett on his first camping trip at Clifty Falls State Park, Indiana.  This particular trip is a tradition that has been going on for about 30 years with the Barbers and their longtime friends the Birches and the Singers, only now the six children who started the tradition have eight children of their own, five of whom were on this trip.  And the young ones are carrying on the traditions of magic shows, marshmallow fights, the kid parade and the treasure hunt (now the high-tech version with GPS, no longer with rhyming clues).  The grand finale for the weekend is listening to the Indianapolis 500 over the radio, which seems particularly old-school considering the campground now has wi-fi.  Probably by virtue of how many times they have held this event, and in no small part due to the number of planners and organizers among them, it was one of the smoothest run, most relaxing camping trips I have ever been on.  Reservations were made at the stroke of midnight on the first day the campsites became available.  And thanks to satellite photography and careful site selection we were able to have an entire island of campsites to ourselves.
As for Everett, there was either too much excitement or else sleeping in the tent was just too strange.  He stayed up hours past his bedtime, skipped naps and completely pooped himself out with constant activity.  Among other things, he tried out a baby pool for the first time, and after he got over the initial shock of the cold water temperature he leaned back and seemed right at home.
A photo album of the trip is here.  I will certainly add to this album if people send photos, so check back from time to time.
May 20, 2009
We had hoped that the first words Everett said consistently would be Mom and Dad, but instead they are cat and dog.  He will spontaneously point at them when he says this, and will look around for them if you ask him where they are.  Other nearby wildlife who are awaiting identification include a nesting bird outside our front door (perhaps someone can help us identify the species?) and a pair of mallards who appeared in our front yard yesterday morning.  I keep trying to capture him pointing and naming, but he will not do this on demand and instead seems more interested in the camera, as evident in the video above.
May 13, 2009

Several blog entries ago I talked about how Everett's body composition was mostly milk and cheese, especially by the time we returned from Switzerland.  However, in recent months it has slowly changed to Cheerios, since this seems to be the only food he will eat consistently and will eat at almost any time, even when he is full or doesn't seem interested in his regular food.  When given the chance he will grab fistfuls of them and eat them the way cookie monster eats cookies, with about half of them reaching his mouth and the other half getting dropped in all the commotion.  Once he slows down he will eat them one at a time, and his teeth have become long enough that he can carefully bite each Cheerio in half, which is curiously entertaining to watch.  Hopefully this will all pay off during his next cholesterol test.
When he is not in the mood to eat he makes it clear by turning his head and lifting his shoulder and arm as the baby spoon is on the way to his mouth.  But even at these times he is always interested in what we are eating, and he has a wide-eyed look of wonder on his face as we feed him bites of food from our plates.  In the process of doing this we have discovered two foods that trump Cheerios, something that we certainly didn't expect, though perhaps should have suspected knowing our own preferences: barbeque pork and barbeque chicken.  This also reminded us of the time we were eating dinner with his cousin Trinity, who was about four and spontaneously declared in a deep, throaty voice: "I love pork!"  Fortunately he likes other things from the grill as well, including his veggies.  We certainly hope this lasts and that he becomes an adventurous eater.
May 3, 2009

In the last couple days Everett has developed a new behavior: pointing.  We are not sure where he picked this up because it's not something Melissa or I have done around him, perhaps it's something children just start doing at a certain age.  Either way, today he wanted to show us the harbor seals at the zoo.  See video below.