April 21, 2009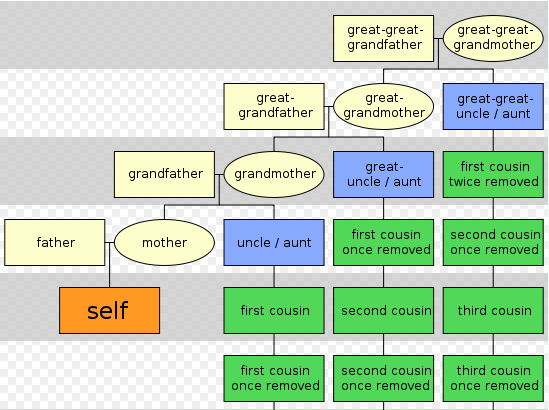 Last week we flew to San Antonio to visit Melissa's family, then drove to Houston for the wedding of my first cousin Daniel to his bride Jenny.  In the course of a few days Everett met an extraordinary number of family members, too many to list here, but many who have genealogical titles that we can never keep precise track of like second cousin or first cousin twice removed, which is why the chart above comes in handy.  Those who met him can now start saying "I knew you when you were this big…".
The trip started in San Antonio to meet with Melissa's parents and extended family, photos are here.  Then we drove to Houston for the wedding, during which Everett met his great grandparents Bob & Birdell Butson, who now have five great grandchildren, all of whom are boys.  Photos from the wedding and from Great Grandpa's 90th birthday party can be viewed here.  These include the dance show that Dillon put on at the wedding.
Everett's mobility changed dramatically during this trip.  In the span of about 48 hours he went from crawling to sitting to pulling himself up to a stand.  From there he progressed from holding on with both hands to one hand, then cruising between furniture and finally he let go altogether.  See below.
April 13, 2009
Everett is changing so rapidly it's hard to keep track of it all.  This is probably because he has become more mobile and is now experiencing the new sense of freedom that comes with it.  He is also developing better fine motor skills – one of our daily rituals and forms of entertainment is to sit at the dinner table and observe these new skills with regard to handling food.  There are a few standard tests he gives new foods: the squish test, the drop test, the smash test, the passing back and forth between the hands, then tasting and finally chewing.  In this video he is getting the hang of using utensils and demonstrating some other things you can do with food.  And as you can see he will not necessarily tolerate us spooning food into his mouth any longer.
Something else he has grown less tolerant of is being changed.  Other parents warned us this would happen, but we still weren't quite sure what to expect.  As Melissa describes it: "It's like trying to put a diaper on a tornado".  I would like to hand him and a clean diaper to a pit crew at a Formula 1 race and see how well they can do.