August 27, 2008

"Many's the long night I've dreamed of cheese." Robert Louis Stevenson
I would like to say I know this quote because I am so well read, but in fact I became aware of it because we now live in America's Dairyland and this quote is printed in letters several feet high on the wall of our new grocery store.  I should also mention that they have an entire freezer section dedicated to bratwurst, and hold beer-tastings on a semi-regular basis.  From what I have heard about Packer's fans, I envisioned them more as the beer-guzzling rather than beer-tasting types, but this could be the work of undeserving stereotypes being propagated by fans of other teams like the Chicago Bears.  However, I will say that there appears to be some truth to the cheese, beer and brat stereotype of Wisconsin.  Cheese curds and all of their squeaky variations (curds squeak when you eat them) have now become a part of our diet.  But to be honest, cheese curds are not that exciting, except perhaps when they are deep fried or added to poutine (one of the fattiest foods of all time and the subject of a future blog entry), and I am hoping that we will soon be able to try many of the locally made cheese varieties.  In the Maryland-Virginia-Pennsylvania area where I grew up, the only native option was "American cheese" which came in individually wrapped slices, and the finer points about it came out only in heated debates between people from Baltimore and Philadelphia about whether it should be white or yellow.  So we're not expecting the south of France, though it would be lovely to discover some new stinky cheese with big hunks of mold in it.
When I asked Melissa if she would like to add anything to this blog entry, she replied "We love cheese!"  By "we" she is certainly talking about me and her, but I think she means Everett as well because she has become finely attuned to his dietary preferences.  He would often have food cravings while in utero, like chips and pickles and Goetta, and Melissa did her best to accommodate them.  One craving she resisted was soft cheese because of the risk of listeria.  But since none of those bacteria are passed through breast milk she is now free to eat just about anything, and the timing couldn't have been better because all this talk about milk and cheese has really just been a stepping stone in preparation for…
August 25, 2008

Milk has been on our minds quite a lot lately, perhaps because we now live in America's Dairyland, and milk is therefore our official state beverage.  Everett certainly seems to be an enthusiastic supporter – at 11 weeks old he is still nursing (and growing) every couple hours.  The funny thing about breastfeeding is that so many people have strong feelings about it, and that they seem open to sharing these feelings.  For example, while traveling from Cleveland to Wauwatosa, a woman approached Melissa in a restaurant to congratulate her for breastfeeding.  In addition, well-meaning family members and neighbors have been asking how Everett is being fed, and offering their praise and support.  Thankfully, the U.S. federal government legalized breastfeeding in 1999* and our new home state passed a law in 1995 that breastfeeding mothers are not in violation of criminal statutes of indecent or obscene exposure.  In this regard, it is interesting how the wording of legislation can create ambiguity where none previously existed, specifically that while breastfeeding Moms in Wisconsin are currently enjoying their non-criminal status, it implies that they were previously involved in some kind of surreptitious activity.
A couple of years ago an employee at a Burger King in Salt Lake City, acting on a complaint from a customer, asked a breastfeeding Mom to either move to the bathroom or leave. While I am not singling out Burger King, I can say that the men's rooms at most restaurants are not places I like to use for their intended purpose, much less as a place to eat, and I can't imagine the women's bathrooms are much better.  But this isn't really the point, and in response to the complaint, the mother organized a nurse-in which was to take place at Burger Kings across Utah, although BK changed their corporate policy to explicitly allow breastfeeding before this came to fruition.  Similar events have caused a barrage of state and federal laws to be passed to protect breastfeeding, apparently in response to complaints or intolerance or who knows what else.
So I would like to raise a glass of milk and toast my wife, who is normally a rule follower but has now inadvertently joined a modern day rebellion of sorts, all in the name of feeding our son.
*This is only a mild exaggeration.  In 1999 President Clinton signed into law the Right to Breastfeed Act, which ensures a woman's right to breastfeed her child anywhere on federal property where she and her child are authorized to be.
August 5, 2008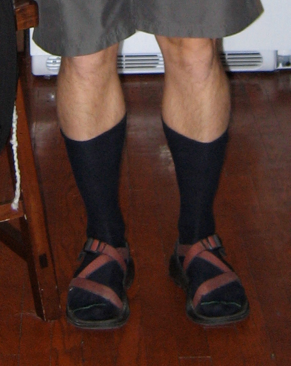 Parenthood brings about many life changes, some expected and some unexpected.  One observation that Chris has consistently made over the years is that fathers commit some pretty serious fashion crimes, the worst of which is wearing dark dress socks with shorts and/or sandals. Those of you who are familiar with Chris' fashion sense may scoff at the idea that he is evaluating the clothing choices of others.  In fact, he would make the opposite argument: that exposed dark socks are so egregious that even he will notice, and that when you start receiving fashion citations from him, you know you are in serious trouble.
This observation brings about two questions: are dark socks associated with fatherhood, and if so, can we apply the scientific method to bring about a mechanistic understanding of this phenomenon?  Answers: probably (at least anecdotally), and certainly.  With this in mind, we put forth the following research hypothesis:
All men who wear dark socks with shorts and/or sandals are fathers
While this does not imply a mechanism for how this behavior comes about, it does provide some guidance on necessary/sufficient conditions for fatherhood: dark socks are not necessary, but they are sufficient.  We propose to study this with in person surveys.  Specifically, if you see a man wearing dark socks with shorts and/or sandals, ask him the following questions:
1. Are you a father?
2. If so, why are you wearing dark socks with shorts or sandals?
The beauty of this simple study design is that it could be carried out quickly and easily, and as a result it would be trivial for our friends in the scientific community to setup research sites in other parts of the world, allowing us to determine if this behavior is pan-cultural.  A survey will most certainly be necessary because apparently one co-factor for this type behavior is an inability to accurately self-report.  At least this is our observation of several male friends and relatives, identified here only by the names "Dad" and "dissertation advisor", who claim that they do not dress this way despite photographic evidence to the contrary.  They are not being dishonest; rather, fatherhood seems to have rendered them unable to make fashion decisions, perhaps because they have too many other more important things to think about.  It remains to be seen if Chris will start behaving this way, and if this change can be attributed to fatherhood.  As with all research, asking questions rarely leads to a definitive answer, but rather begs broader questions, which is why this important work should be funded by a government agency grant such as the NIH or the Annals of Improbable Research.
August 5, 2008
Here are the top three abatement recipes submitted by our readers*.
Abateios
Amy provided a wealth of useful comments on every single ingredient on the abatement list, such as "cocoa powder should be used to make brownies, but I'm afraid that you will succumb to the temptation to add walnuts to those brownies, and that really is a terrible, mean, awful thing to do to a brownie."  As for the Peeps, she suggested Rice Krispy treats.  However, we don't have any Rice Krispies, and buying new ingredients is forbidden, so we substituted Fruity Cheerios and cooked the Peeps in butter before mixing them.  The result: a colorful, crunchy, fruity medley.  They were actually quite good, and not as weird as they sound.  We ate all of them, save the one that we mailed to Amy.
Momzpacho or Gazmocko
Amanda submitted the following recipe which gets extra points for using multiple ingredients off of the abatement list:
Chill the V8 JUICE.  Chop up tomatoes, cucumbers, OLIVES – add to JUICE with olive oil and vinegar (if available).  Voila, you have mock gazpacho.
We have not yet tried this.  Chris is not fond of V8 juice or liquid tomatoey things, other than ketchup in prodigious quantities, so Melissa and Everett will have to judge.
Broccamole
Melissa came up with this recipe to be eaten with chips and, of course, whatever else can be found.  Ingredients: broccoli, a can of peas, avocado, lemon juice, garlic, tomatoes.  Put them all in a food processor and convert to mush.  The result: surprisingly good.  The texture is similar to guacamole, and the garlic and lemon juice are pretty important to give it some zing.  The vegetable taste is certainly not overpowering.  However, keep in mind that we are vegetable eaters to begin with, and not everyone in our circle of friends and family feels the same way.  For example, one relative who we will call "Sean" for the purposes of this blog, has culinary preferences which are mostly limited to the brown/beige layer of the food pyramid.  This is because he is a "supertaster", and therefore cannot eat vegetables without being overcome by the taste of all those phytonutrients, although it does not explain how he can eat hot wings, but this is a bit of a digression.  So we are not sure if he would eat guacamole, but if so he would certainly eat broccamole.  That's how good it is.  In the past we successfully got him to eat vegetable amalgam without his consent by making it look like sausage, so just to be on the safe side we will add brown food coloring before serving it to him.
*We only had three entries.